Donate Now
Founded as the charitable arm of the ASRS, the Foundation of the ASRS has distinguished itself by empowering patients to safeguard their sight through education while also nurturing the development of next-generation retina leaders.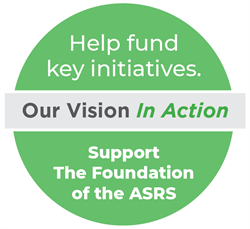 Your donation to the Foundation will allow us to support:
Public awareness and education activities promoting retina health
Further education and training of vitreoretinal fellows
Consider an unrestricted gift or help fund one of three new Foundation initiatives each designed to advance the careers of aspiring retina specialists in their early years in the field. For more on the new initiatives visit Our Vision in Action.
---
Plan Your Enduring Legacy with Foundation of the ASRS
To learn more about making a planned gift, donating a gift of stock, or creating a named Research Grant or named Fellowship Award, please email ASRS EVP Jill Blim or ASRS VP of Finance Shelly Vanover.
The Foundation is recognized as a tax-exempt public charitable organization under section 501(c)(3) of the Internal Revenue Code.
---