Food and Drug Administration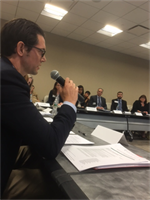 The ASRS is a leading advocate and trusted voice to the U.S. Food and Dug Administration (FDA) on key regulatory issues that affect physician choice of prescription and compounded drugs, including the ability to provide prompt in-office medical treatment to patients and access to Avastin.
The Society provides retina-specific perspectives and guidance to the Agency in an effort to shape policy that will enable timely access to the most appropriate drug for the patient to ensure consistent delivery of high quality care.
ASRS keeps its members abreast of important policy developments while also working with other stakeholders to advise and educate the FDA as it develops critical policies on topics including:
---
FDA Comment Letters
---
FDA Testimony
Some content on this page is restricted to access by members only.