RUC and CPT
The ASRS actively participates in the:
AMA/Specialty Society RVS Update Committee Process to provide scientific and clinical perspectives on retina-related services and procedures under the Medicare program
AMA Current Procedural Terminology (CPT®) Editorial Panel process to ensure that the descriptors for CPT® codes accurately reflect retina services and procedures

---
The RUC
In 1992, Medicare transitioned from a physician payment system of "customary, prevailing and reasonable" to a physician payment system based on the resource-based relative value scale (RBRVS). The AMA anticipated the effects of this change and formulated a multispecialty committee. This group, known as the AMA/Specialty Society RVS Update Committee (RUC), provides physicians a voice in shaping Medicare relative values.
Mission of the RUC
The RUC is a unique multispecialty committee dedicated to describing the resources required to provide physician services that the Centers for Medicare & Medicaid Services (CMS) considers in developing Relative Value Units (RVUs). Although the RUC provides recommendations, CMS makes all final decisions about Medicare payments.
---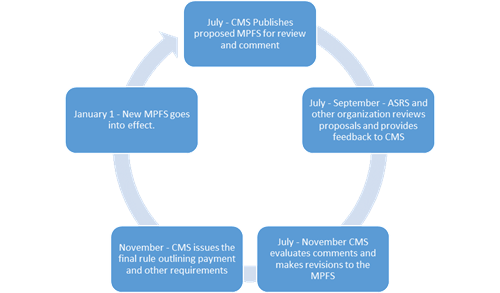 Values for Medicare Codes
CMS sets a value composed of three elements: physician work, the practice expense (PE), and professional liability insurance (PLI). The combination of these relative value components determines a CPT® code's relative value unit (RVU). The RVUs published in the Federal Register MPFS are multiplied by a conversion factor (CF) that is updated every year based on limits set by Congress.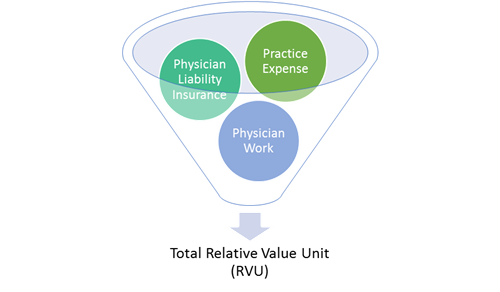 Total RVUs for CPT ® Code (Physician Work + Practice Expense + Professional Liability) x Conversion Factor = Total Value of the Code*
*Geographic adjustments are made for work, PE, and PLI
Potentially "Misvalued" Codes
CMS and RUC subcommittees regularly identify codes that they believe are potenitally misvalued and request that the specialties that perform the services selected, survey their members. CMS may identify codes that appear to have a low volume of utilization and suddenly appear to be used more frequently. Other examples of ways to screen for potentially misvalued codes include:
Codes that are frequently billed together
Codes that have not been recently reviewed
Codes with high-cost supplies
Codes with substantial changes in practice expenses
RVS Update Committee (RUC) Process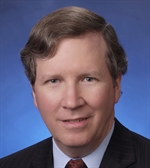 In 2013, ASRS began to provide input to recommendations on the work and practice expenses for CPT® codes that describe retina services. ASRS Past President, John T. Thompson, MD, is currently serving an appointed term as ASRS RUC Advisor. Along with AAO representatives and advisors, Dr. Thompson attends three RUC meetings each year.
---
The CPT® Editorial Panel
To communicate medical services and procedures, the CPT® coding system assigns a uniform set of descriptive terms to five-digit codes. The CPT® Editorial Panel works with national medical societies and other stakeholders to develop and maintain appropriate nomenclature for the latest medical care provided to patients. The Panel meets three times per year to obtain the input of practicing physicians, medical device manufacturers, developers of the latest diagnostic tests and advisors from over 100 societies representing physicians and other qualified health care professionals.
Anyone can submit a proposal to CPT® for a new or revised code. The group has the final authority to assign a code's category, whether it is a Category I or Category III. The criteria for Category I or Category III codes can be found here on the AMA website.
In 2019, Gayatri Reilly, MD, was appointed the ASRS CPT® Advisor and Christopher Henry, MD, was appointed the ASRS CPT Alternate Advisor. Along with AAO representatives and advisors, Drs. Reilly and Henry attend the CPT® Editorial Panel meetings throughout the year.
Gayatri Reilly, MD

CPT Advisor

Christopher Henry, MD

CPT Alternate Advisor
---
Background Articles
Contact monica.horton@asrs.org for more information on the RUC and CPT® process.
CPT® is a registered trademark of the American Medical Association. Copyright American Medical Association. All rights reserved.