Save the Date!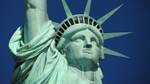 Mark your calendar now and plan to join us for the 40th Annual Scientific Meeting in New York, July 13-16, 2022!
Health & Safety Protocols
The ASRS is committed to providing a safe and healthy environment for all Annual Meeting attendees. The Society is working with the Javits Center to create a safe environment and will be following guidelines provide by the Centers for Disease Control and Prevention (CDC).

As always, ASRS meeting participants are required to comply with all applicable regulations imposed by federal, state and/or local health authorities and government mandates. ASRS's COVID-19 Safety & Health Protocols also mandate that all meeting attendees be vaccinated.