Journal of VitreoRetinal Diseases
Click for Official JVRD Website and Content
*Members must be signed in to reach JVRD content. If you experience issues please clear your cache or try an alternate browser.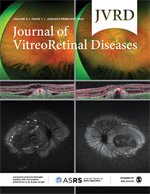 The Journal of VitreoRetinal Diseases (JVRD) is the official peer-reviewed, scientific journal of the American Society of Retina specialists, launched in August of 2016.
With this world-class online and print publication, ASRS provides a trusted resource for the highest-quality research and clinical information in the rapidly evolving field of retina.
The journal focuses exclusively on publishing original basic, translational and clinical research papers across the spectrum of vitreoretinal diseases.
---
Editorial Board
JVRD is led by Editor-in-Chief Donald J. D'Amico, MD, Professor and Chairman, Department of Ophthalmology, Weil Cornell Medical College/New York-Presbyterian Hospital, and a stellar international editorial board of leading retina experts.

---

Why Publish in JVRD?
JVRD brings to bear the ASRS's considerable reach and reputation for excellence in capturing today's most important retina science, clinical information and thought leadership. The journal offers unparalleled visibility throughout the worldwide retina community with distribution not only to paid subscribers, but also to more than 3,000 ASRS members.
Authors who publish in JVRD receive review by the journal's distinguished editorial board of leading international retina experts. Check out the JVRD Editorial Board
PubMed indexing is a top priority for JVRD, and all necessary steps are being taken to attain this. In the meantime, authors who receive government funding for their articles are invited to submit accepted manuscripts directly to PubMed Central. Click here for more information.

---
Submit to JVRD
Submissions are accepted in the following categories:
Original Manuscripts
Reviews
Letters to the Editor
Case Series
Clinical Trials
Research Briefs
Editorials
Retinal Controversies: Pro and Con
Before you submit, please check out our Submission Guidelines
Some content on this page is restricted to access by members only.