Patient Education Materials
The Foundation of the American Society of Retina Specialists offers a range of comprehensive patient education materials developed with retina patients and their families in mind. Check back often for new and updated information and tools.
---
Retina Patient Guides
Are you seeing a retina specialist for the first time? Ever wondered how to keep your retinas healthy for a lifetime? Our patient guides share need-to-know background on seeing a retina specialist, maintaining healthy vision and more. Download and share today.
Preparing for Your Retina Appointment: Have an appointment with a retina specialist soon? Download and print this detailed patient discussion guide, including questions you may want to ask your retina specialist to better understand and care for your retinal condition.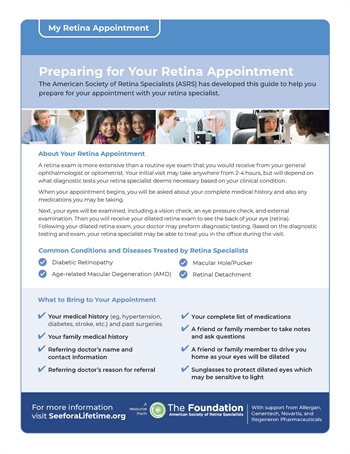 ---
Healthy Habits to Preserve Healthy Vision: Healthy habits today can preserve your retina health in the future. Do you know the seven healthy habits that can not only bolster your overall health, but also preserve healthy retinas and eyesight? Download our Healthy Habits to Preserve Healthy Vision patient guide to learn more.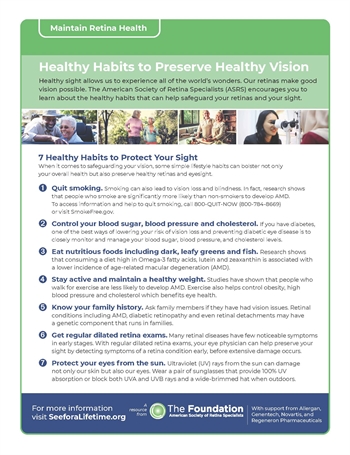 ---
Talk with Your Doctor About AMD: If you or a loved one has recently been diagnosed with age-related macular degeneration (AMD), you likely have questions and concerns about the condition. That's why the ASRS worked with the National Eye Institute to develop the Talk with Your Doctor About AMD guide — to help people start meaningful conversations about AMD at their next appointment. Download, print or share it on social media today.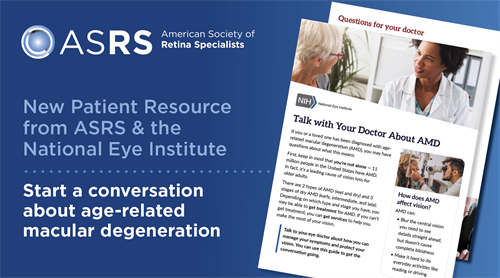 ---
Infographics
Do you know the facts about AMD and Diabetic Retinopathy? Download and share infographics on these treatable retinal conditions today.
Click here for our AMD Infographic
Click here for our Diabetic Retinopathy Infographic
---
Retina Health Poster
Your clear view of the world relies on healthy retinas. Learn how to care for your retinas to protect good vision. View, download and order print copies of our retina health poster today.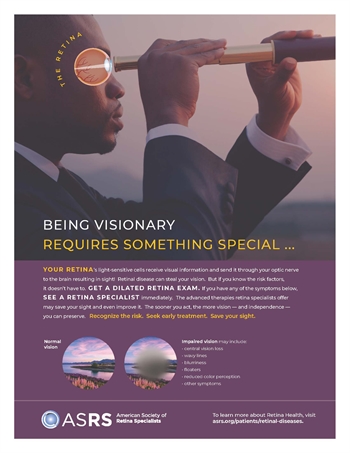 ---