Retina Health Fact Sheets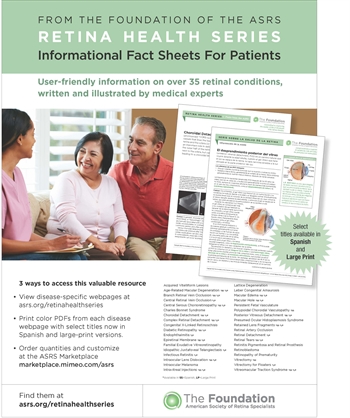 Learn About Retinal Diseases and Conditions
The Retina Health Fact Sheet Series, from the Foundation of the American Society of Retina Specialists, offers condition-specific webpages and printable facts sheets on nearly 40 retinal conditions.
The series is written and illustrated by medical experts and offers select titles in large print, Spanish and Chinese.
Select a condition from the title listing on the right for information on:
Symptoms and risk factors
Diagnostic testing
Treatment and prognoses
Note for members: ASRS members can order quantities for distribution to patients by visiting our marketplace and purchasing them at cost. There is also an option to customize fact sheets with practice contact information.
---