The American Society of Retina Specialists (ASRS) and the Foundation of the American Society of Retina Specialists (FASRS) are in a partnership for patients.
While ASRS works to support its members in enhancing patient care and charting the course for the future of retina, the Foundation strives to support patients and the retina community through education, awareness and fundraising activities like those listed on this page.
---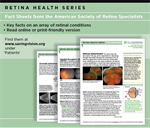 Patient Education Fact Sheets
The ASRS Foundation's Retina Health Series offers a collection of webpages with understandable facts about causes, symptoms, risk factors, diagnostic testing, treatment, and prognoses of an array of retinal conditions. Each webpage also offers a printable PDF version of the information for your convenience. Check out the series.
New Patient Fact Sheet Marketplace!
Visit our marketplace to view, order and customize fact sheets for your practice.
---
Public Awareness Posters Raise AMD Awareness Nationally

The Foundation has developed and distributed "Got AMD?" public awareness posters to cast a light on Age-related Macular Degeneration (AMD).
Since their release in February 2013, ASRS has mailed hundreds of posters to member practices, senior citizens facilities, low-vision rehabilitation clinics, community health centers, and Veterans Administration facilities across the country—all by request!
This eye-catching 2-poster set demonstrates the distorted vision of someone living with AMD and encourages people to get an examination or seek treatment.
---
Support Your Profession's Foundation
Activities such as the "Got AMD?" poster campaign would not be possible without the generosity of retina specialists. Donate to FASRS today and help improve the quality of life of all people with retinal diseases.