Individual Giving and Corporate Sponsorship Opportunities
Donations and sponsorship support for the work of the Foundation of the American Society of Retina Specialists helps to improve the quality of life of people with retinal diseases through public education and awareness activities and to advance the training of the next generation of retina specialists. Below are individual giving options as well as corporate sponsorship opportunities.
---
Individual Online Giving Options
Individual Donations
Make your gift today to provide immediate support.
---
Monthly or Quarterly Donations
Maintain a level of giving at a pace that works for you. Recurring donations will be automatically drawn from a credit card on a monthly or quarterly basis.
---
Honor a Physician
Use your gift to recognize a physician who influenced your career or whose great advancements in retinal sciences have improved the lives of patients with retinal diseases.
If you are a patient, the Foundation also invites you to recognize a doctor who has provided care to you or a loved one.
---
Our Vision in Action
Building on its successful patient education campaign, the Foundation is launching three programs that focus on shaping the success of early-career retina specialists, Travel Grants, and two Legacy Giving Opportunities: named Research Grants and named Fellowship Awards. Learn more here.
---
Planned Giving
Include the Foundation of the ASRS in your estate planning and leave your heartfelt imprint on the Foundation and its mission long into the future. The Foundation accepts many planned giving options, including life insurance, wills, trusts, real estate, annuities, and securities. To learn more about making a planned gift please email ASRS EVP Jill Blim or ASRS VP of Finance Shelly Vanover.
---
The M. Gilbert Grand ASRS Vitreoretinal Fellowship Award
The M. Gilbert Grand ASRS Vitreoretinal Fellowship Award will provide much-needed financial support to deserving second-year retina fellows during their critically important, formative time in vitreoretinal training. The perpetual award has been established for the purpose of expanding access to retina specialist fellowship training opportunities by offsetting some of the financial burden incurred during fellowship. The hope is that recipients will be inspired to give back in a similar fashion later in their careers. Learn more here.
---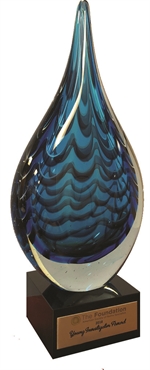 ASRS Presidents' Young Investigator Award
The Retina Young Investigator Award, established to honor past leaders of the ASRS and to serve as a means to nurture the development of the next generation of retina leaders, encourages researchers to undertake investigative work in critical areas of retinal diseases that may one day lead to meaningful improvements in patients' lives. It is open to researchers aged 45 years or younger who are members of the ASRS.
The number of awards will be based on corporate sponsorship.
Eligibility criteria
45 years of age or under at the time the paper is published
Member of the ASRS
Must be first author on the paper submitted for consideration
Paper must be original and published in a peer-reviewed journal during the year preceding the award.
Individuals may nominate themselves or others may nominate them
To be considered, nominees must submit the published paper, including all illustrations and online links, acknowledgement from co-authors that the candidate is in fact the primary investigator, and a curriculum vitae.
Corporate sponsorship opportunity
The Foundation is seeking bids to be the corporate sponsor of the endowment for this annual award. To be considered, a minimum bid of either a one-time $100,000 grant or commitment to making $30,000 installments for 5 years is required.
Sponsor benefits
The sponsor will be recognized in all marketing materials, at the awards ceremony, and on the Foundation section of the ASRS website.
---
Patient Education Brochures
The Foundation of the American Society of Retina Specialists offers an expanding series of patient education brochures. The disease-specific fact sheets are stand-alone materials in customizable formats for use in retina specialists' practices.
There is a significant need to provide patients and the public with quality information on retina health and conditions. Learn more about these patient education resources at asrs.org/retinahealthseries.
---
Please contact Jill Blim or Shelly Vanover for more information on any of these individual giving and sponsorship opportunities.