Saving Vision is a patient-information resource hosted by the American Society of Retina Specialists in collaboration with its Foundation. This site offers information for patients diagnosed with retina conditions and promotes the importance of care by a retina specialist.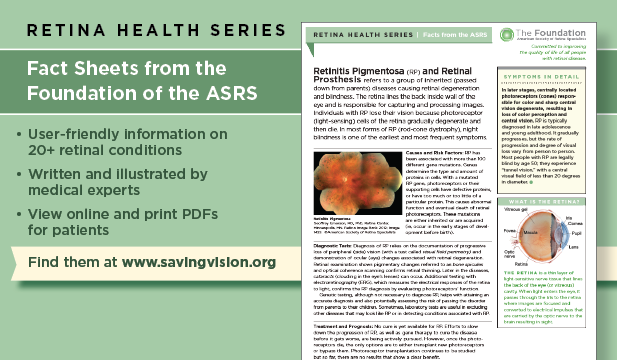 What's new
How the Combined Work of Two ASRS Members Allowed a Blind Man to See for the First Time in Three Decades

Oct 17, 2014 PatientNews

Retina Research Breakthroughs: When Physicians, Government, and Industry Work Together, Patients Win

Oct 16, 2014 PatientNews
Sep 2, 2014 PatientNews
---
The retina, at the back of the eye, is the key to vision. When proper treatment is provided for certain eye conditions, retina specialists can preserve vision and restore sight. If you have questions regarding any of the conditions, contact your local retina specialist.