Preferences and Trends (PAT) Survey
Thanks to All Who Took the 25th Annual PAT Survey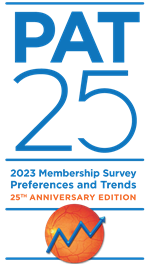 ASRS Preferences and Trends (PAT) Survey Editor Paul Hahn, MD, PhD, FASRS, is grateful to the nearly 1100 ASRS members who participated in the 2023 PAT Survey.
Since 1999, the ASRS PAT Survey has provided a yearly snapshot of our members' preferences on a wide range of medical, surgical, and socioeconomic topics. And because the survey repeats key questions from year to year, we can also track significant trends in retina practice patterns.
Final results compare US and international responses
Dr. Hahn presented the 2023 PAT Survey results—as well as multiyear trending data showing how retina practice patterns are changing over time—at the ASRS Annual Meeting, July 28-August 1, in Seattle.
A PAT Survey supplement—with complete 2023 survey results and trending data, and an expert roundtable discussion—will be mailed with the fall issue of Retina Times.
A separate set of PAT Survey graphs will compare the responses of retina fellows in training with those of ASRS members in practice.
---
A look at the story behind the PAT Survey
Back in 1999, an ambitious Society initiative was launched—the brainchild of 2001-2002 President Kirk Packo, MD, FASRS, and 2018-2019 President John Pollack, MD, FASRS, who had completed his fellowship just 2 years earlier. The new initiative was dubbed the Preferences and Trends (PAT) Survey.
As John Pollack recalls in The History of the American Society of Retina Specialists: 25 Years,[1] "We decided the ASRS survey would be designed to identify new and evolving therapies and surgical techniques, controversies, preferences, and trends. It would help relatively isolated retina specialists know if they were practicing along the lines of other specialists … [and] would lead retina specialists to ponder, 'Am I ahead of my time, on time, or behind the times?' The PAT Survey would allow us to 'take the pulse' of retina specialists around the world—something that had never been done before."
There was no shortage of ideas—from a first draft of about 250 questions, the original PAT Survey was honed down to 126 questions in 17 categories. (The survey has been trimmed over the years to an average of 75 questions.) Members took the original survey on paper or online, and the results were presented on individual hand-produced posters at the 1999 Annual Meeting of The Vitreous Society in Rome, Italy.
The PAT Survey results have been displayed at each ASRS Annual Meeting since then. As an ASRS member, you can access the complete PAT Survey archive.
Kirk Packo and John Pollack served as the PAT Survey editors until 2005, when Robert Mittra, MD, FASRS, became the editor and John Pollack stayed on board as co-editor. In 2011, J. Michael Jumper, MD, FASRS, became the PAT Survey editor with Robert Mittra as his co-editor. Thomas Stone, MD, FASRS, took over the reins as editor in 2013 with Robert Mittra continuing to serve as co-editor until 2014. In 2019, Thomas Stone named Paul Hahn, MD, PhD, FASRS, as co-editor; Dr. Hahn became the PAT Survey editor in 2020.
PAT Survey results are copyrighted

Results of the PAT Survey are provided solely for the educational interest of ASRS members. All responses and data analyses are the sole property of the ASRS. Publication and/or use of the data are not permitted without prior written approval from the PAT Survey managing editor; email susan.raef@asrs.org.
Reference
Pollack JS. ASRS Preferences and Trends Survey: a historical perspective. In: The History of the American Society of Retina Specialists: 25 Years. Chico, CA: American Society of Retina Specialists. 2007:50-51.
Some content on this page is restricted to access by members only.