RETAP: Retina Education and Training for Allied Health Professionals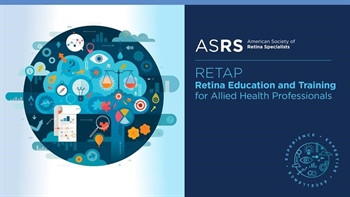 The Retina Education and Training for Allied Health Professionals (RETAP) program is designed to assist ASRS members in onboarding new practice staff.

The program offers a series of online educational modules that allow retina practice staff to build essential skills through an introduction to basic ophthalmic medical knowledge, including:

Module 1: Basic Ophthalmic and Retina Practice Knowledge
Ocular and Retinal Anatomy
Systemic Diseases and Their Ocular Impact
Instruments for a Retina Clinic

Module 2: Retinal Diseases and Conditions
Introduction to Age-Related Macular Degeneration (AMD)
Overview of Diabetic Retinopathy
PVDs/RTs/RDs
Approach to Uveitis

Module 3: Office Procedure Knowledge/Pre- and Post-Op Surgical Knowledge
Intravitreal Injection Technique: Updated Expert Recommendations
Retina Laser Training
Instructions for Cryopexy
Overview of Pneumatic Retinopexy
The educational series, which was developed by a task force of member volunteers, is an exclusive benefit of ASRS membership and is expected to grow over time.


Here's how to get started!

Allied staff who are interested in participating must complete the application linked below
that includes listing the name of an ASRS member in the practice they are affiliated with. Once the information is verified, the applicant will receive access to the education portal.


Upon successful completion of the educational modules and related quizzes, participants will receive a certificate of completion.


Questions? Contact
Jennifer Carstens
, ASRS Director of Clinical Research and Education.