WinR Mentoring Program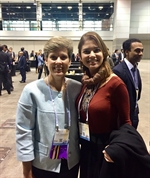 The purpose of Women in Retina (WinR) is to partner with industry to create a year-round mentoring program for young women retina specialists.
Background
WinR was founded in 2007 with the help of Genentech, Inc. It has found its niche at the ASRS Annual Meeting where it brings together women members for mentoring, networking, collegiality, and inspiration during the WinR luncheon and the WinR Fluorescein Case Conference.
Although the ASRS Annual Meeting is just once a year; there are many more opportunities throughout the year to interact with and inspire young women retina specialists. Our long-term goal is to get more women involved in research, presenting at podium, becoming key opinion leaders, and holding prominent positions in organized retina and ophthalmology.
Methods
In addition to the ASRS Annual Meeting functions, WinR offers additional mentoring opportunities throughout the year as described below. Be sure to check out the WinR Events for the most up to date details on events and trail grant applications.
Fall
AAO Subspecialty Day
ASRS Fellow-in-Training (FIT) members and young ASRS physician members (up to 2 years out of fellowship) are eligible to receive a $2000 travel grant. The travel grant will give you the opportunity to attend Retina Subspecialty Day accompanied by a senior WinR member, who will act as a mentor throughout the program. At the meeting, both mentors and fellows-in-training will have opportunities to network with women who are prominent in organizational ophthalmology, including past presidents of AAO, presidents of subspecialty societies, chairwomen, and prominent researchers.
Winter
WinR Brunch – January
Take advantage of the opportunity to meet WinR leadership and other ASRS members at the WinR brunch. This invitation is open to all fellows interested in learning more about the WinR mentoring program and networking with others in the specialty.
Spring
ARVO Annual Meeting
WinR hosts a luncheon for fellow members and retina fellows at the Association for Research in Vision and Ophthalmology (ARVO) Annual Meeting. The luncheon is an opportunity to present research, provide practice at the podium, highlight young women's research and talents, as well as provide coaching.
Summer
ASRS Annual Meeting
WinR hosts an annual luncheon during the ASRS Annual Meeting. The luncheon will feature a keynote speaker; while the case conference offers WinR members the opportunity to present interesting cases.
Interested in participating in the WinR mentoring program?
Click here to learn more and apply before Feb. 14.
Email any questions to Sam Zerang