WinR Mentoring Program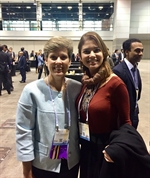 The purpose of Women in Retina (WinR) is to partner with industry to create a year-round mentoring program for young women retina specialists.
WinR was founded in 2007 with the help of Genentech, Inc. It has found its niche at the ASRS Annual Meeting where it brings together women members for mentoring, networking, collegiality, and inspiration during the WinR luncheon and the WinR Fluorescein Case Conference.
Although the ASRS Annual Meeting is just once a year; there are many more opportunities throughout the year to interact with and inspire young women retina specialists. Be sure to check out the WinR Events for the most up to date details on events and grant opportunities. Our long-term goal is to get more women involved in research, presenting at podium, becoming key opinion leaders, and holding prominent positions in organized retina and ophthalmology.
In 2021, WinR reimagined the core mentorship program to include a long-term experience in hopes of fostering stronger and lasting relationships between participants. The ultimate goal is to cultivate and elevate women leaders, and to provide both mentors and mentees with the tools they need to excel in roles inside and outside of medicine. The program consists of several Zoom sessions throughout the year with breakout sessions to allow for intimate and candid discussions. The final event of the program is an in-person Mentorship Breakfast at the annual AAO Subspecialty Day, which allows the mentor-mentee pairs to share time face-to-face. After breakfast, mentees are encouraged to shadow their mentors to see how a seasoned retina specialist experiences the meeting.
Interested in participating in the WinR mentoring program?

Email any questions to Sam Zerang