Upcoming WinR Events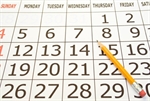 WinR Mentoring Program - ongoing
In 2021 we reimagined the core mentorship program to include a long-term experience in hopes of fostering stronger and lasting relationships between participants. The ultimate goal was to cultivate and elevate women leaders, and to provide both mentors and mentees with the tools they need to excel in roles inside and outside of medicine. The final event of the program was an in-person Mentorship Breakfast at the annual AAO meeting in November, which allowed the mentor-mentee pairs to share time face-to-face. The mentors were encouraged to have the mentees shadow them for the day, like we have done in years past. In 2022 we held quarterly virtual group sessions on various topics with breakout discussions leading up to the in-person breakfast at AAO.
Applications for the 2023 Mentorship Program are now closed.
WinR Clinical Trials Incubator Webinar Series
All ASRS members are invited to participate in a 5-part webinar series hosted by the Women in Retina (WinR) Section's Clinical Trials Incubator (CTI) - an extension of the ASRS WinR Mentorship Program that aims to increase the participation of women retina specialists as principal investigators (PIs) in clinical trials.
Beginning in October, the series will offer practical information on clinical trial participation:
Clinical Trial Biostats
Tuesday, October 17 | 7:30 PM CT
Register here
Regulatory Affairs
Monday, November 20 | 7:30 PM CT
Register here
Overview of Clinical Development
Tuesday, November 28 | 7:30 PM CT
Register here
Medical & Safety Monitoring
Tuesday, December 12 | 7:30 PM CT
Register here
A Case Study in Clinical Trials
Monday, January 22 | 7:30 PM CT
Register here
WinR Mentorship Breakfast at AAO Subspecialty Day, San Francisco, CA - November 3, 2023
WinR will host a breakfast for WinR Mentorship Program participants on the Friday of AAO's Subspecialty Day. At the meeting, both mentors and mentees will have opportunities to network with women who are prominent in organizational ophthalmology.
Note: This event is not affiliated with AAO.

Please note that the events held in conjunction with the ARVO, WIO and the WinR Mentorship Program offer WinR grant opportunities. Each applicant is eligible to receive one WinR grant per year.
---
Archived WinR Webinars
If you missed our webinars on managing your personal finances, leadership presence or private equity,
click here
to access the event recordings.