ASRS Holds Joint Symposium at EURETINA 2016
American Society of Retina Specialists Symposium (ASRS)
EURETINA 2016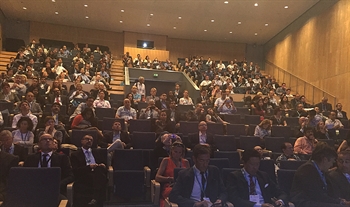 Saturday, September 10
Copenhagen, Denmark
Thanks to the ASRS Symposium speakers at EURETINA 2016 in Copenaghen, Denmark for a wonderful presentation. A variety of medical , surgical, and basic science topics were presented that are summarized by the authors below. The symposium was an excellent example of the ongoing partnership we have with our international colleagues as we continue to integrate our ideas with theirs to improve and enhance patient care worldwide. We are grateful to our partner societies for allowing these ongoing opportunities.
Chairpersons:
Philip J. Ferrone MD
Kourous A. Rezaei, MD
Gaurav K. Shah, MD
08.00
Update on Genetic Testing for AMD
Carl C. Awh, MD
Tennessee Retina, Nashville, Tennessee
In an "Update on Genetic Testing for AMD," Carl Awh, MD highlighted the recent publication by Seddon and colleagues in the British Journal of Ophthalmology, confirming an interaction between genetic risk and response to the AREDS formulation. This is the largest study of the impact of genetic risk on progression to advanced AMD in AREDS patients with established AMD.
Dr. Awh then presented an analysis of patients without baseline AMD, using data from the AREDS Cataract Trial. Awh and colleagues found that antioxidant supplements had no overall impact on the development of intermediate AMD, but that patients with differing genetic risk had significantly different response to antioxidant supplements. Patients with high genetic risk (3 or 4 CFH and ARMS2 risk alleles) had a significant reduction in the risk of developing intermediate AMD (HR 0.27, P = .008), while those with low genetic risk (0 or 1 risk allele) had a significant increase in the risk of developing intermediate AMD (HR 2.54, p = 0.01).
Since the majority of the population has no genetic risk, these findings suggest that patients without AMD should not take antioxidant supplements, consistent with current recommendations. However, patients without AMD and with high genetic risk may benefit from antioxidant supplements. Zinc was not tested in the AREDS Cataract Trial, so these recommendations are specific to the antioxidant component of the AREDS formulation.
08.10
Multimodal Imaging in Vitreoretinal Surgery
Stanislao Rizzo, MD
Careggi Hospital, Florence, Italy
The combination of multiple imaging modalities reveals many advantages to further understand disease progression and surgical outcome in vitreoretinal diseases. In this fashion, spectral-domain optical coherence tomography (SD-OCT), swept-source OCT (SS-OCT), widefield angiography, en face OCT, OCT angiography (OCTA), microperimetry, autofluorescence, adaptive optic and intraoperative OCT visualization are changing our understanding of vitreoretinal diseases.
Each imaging technique has tissue-specific characteristics and can analyze a specific structure unequivocally, allowing an evolution of comprehension of the specific alterations of the different retinal structures in the various vitreoretinal diseases. Mostly OCT technique enables us to precisely visualize retinal details, choroidal structures, vitreous findings and novel structures as suprachoroidal space.
In our experience, we used OCTA and microperimetry to evaluate patients affected by epiretinal membranes and macular holes before and after surgery, revealing new findings in retinal vasculature. Before surgery, significant alterations of the superficial and deep retinal plexus were visible with OCTA, corresponding to retinal sensitivity modification detected by overlapped microperimetry. After surgery in most cases, OCTA showed a recovery of the superficial plexus and early significant alterations in deep retinal plexus, with a complete restoration of this plexus during the follow-up.
Only the integration of findings obtained by different imaging modalities can offer a wider overview about vitreoretinal surgical diseases: structural and functional changes before and after the surgery, prognostic factors and new informations to understand the pathogenesis of diseases.
08.20
Long Term Follow-up of Treated Severe Coats' Disease Complicated by Secondary Traction Retinal Detachments.
Philip J. Ferrone MD, Long Island Vitreoretinal Consultants, Great Neck, New York
Traction retinal detachment occurs in Coats' disease and can be progressive and significant. This was a series of 5 stage 3B severely affected Coats' disease eyes in which no anti-VEGF used at any point, hence these traction detachments did not arise from the use of those drugs. All patients received laser and/or exocryotherapy for treatment of the active Coats' lesions to treat the total exudative retinal detachment at initial presentation.
The traction retinal detachments arose 18 months on average after ablative therapy. There was a wide time range of presentation and progression of these traction detachments. They typically became significant a mean of 2½ years after onset. At 3 years of mean follow-up after vitrectomy for the significant traction retinal detachments, all patients were doing well; however, this was not the case at the mean 6-year follow-up point. Three out of 5 patients did poorly at that time despite doing well at the mean 3-year follow-up point).
Vitrectomy was initially effective in addressing traction with good vision and anatomic results. Two eyes developed a diffuse pigmentary retinopathy with significant widespread vessel attenuation, which led to no-light-perception (NLP) vision and phthisis in these 2 eyes (no active Coats' lesions or detachment at that time).
In conclusion, after initial ablative treatment, vitrectomy may be beneficial in preventing delayed-onset vitreous organization and tractional retinal detachment (TRD). Stage 3B eyes can do well with treatment but with longer follow-up, not as well as in the seminal report by Silodor et al.1
08.30
New Instrumentation in Vitreoretinal Surgery
David R. Chow, MD, FRCS(C), University of Toronto, Toronto, Ontario, Canada
Dr. David Chow presented an update on the latest instrumentation to be released for vitreoretinal surgery. Among the highlights discussed were the impending release of a 10,000 CPM beveled vitrector probe and the Ngenuity digitally assisted vitrectomy system (Alcon Laboratories, Inc, Fort Worth, TX) and the continued development of hypersonic vitrectomy with a virtual cut rate of 1.7 million CPM (Bausch+Lomb, Rochester, NY). The Superpivot lens set (Insight Instruments,Inc, Stuart, FL) includes a 130-degree wide-field and a 72-degree ultra HD 3D macular lens together in a disposable set for binocular indirect ophthalmic microscrop (BIOM) users.
Claus Eckardt and Vitreq BV (Vierpolders, The Netherlands) are releasing a squeezer to allow more controlled injection of dyes and perfluorocarbon liquids. DORC (Dutch Ophthalmic Research Center, Zuidland, The Netherlands) is releasing a 23-gauge specific heavy silicone oil removal cannula, 2000cs SIlicone Oil and a 27g wide grip extended reach forceps to allow 23g behaviour in a 27-gauge platform.
Katalyst Surgical, LLC (Chesterfield, MO) has released the Kamei sweeper forceps, which features a forceps with only one mobile blade, the Revolver steerable laser probe with dispoable fibers, and a 3D printer customized forceps grip. MedOne Surgical, Inc (Sarasota, FL) has released an adaptor for 1cc Tb syringes to be connected to the VFI systems to allow more controlled-delivery subretinal drugs and a shorter 0.7 mm soft-tip cannula for ease of entry into valved cannula systems.
08.40
A Controlled Comparison of the Intravitreal Dexamethasone Implant vs Intravitreal anti-VEGF Injections for Diabetic Macular Edema
Tarek S. Hassan, MD, Oakland University William Beaumont School of Medicine and Associated Retinal Consultants, Royal Oak, Michigan
Dr. Hassan presented results of his prospective trial of 11 consecutive patients with bilateral, equal, and matched chronic diabetic macular edema (DME) (both sub-optimally treated with consistent intravitreal anti-VEGF injections) who underwent a direct head-to-head comparison of outcomes after one randomly assigned eye continued its course of monthly anti-VEGF injections while the contralateral eye simultaneously received only a single injection of the dexamethasone implant.
All 22 eyes completed a minimum of 3 months follow up in this short-term assessment. In each patient, the eyes were matched as follows:
Same stage of diabetic retinopathy
Equal amounts of DME
Symmetric treatment histories
No prior intravitreal dexamethasone therapy
Equivalent visual acuities
Well-controlled blood sugars (mean HgbA1C = 6.5)
At month 3, the overall visual acuities between the continued anti-VEGF group and the singular dexamethasone group were the same. However, mean central macular thickness was significantly more reduced in the single intravitreal dexamethasone group than in the anti-VEGF group. This was most significant at month 2. There were no notable complications or significant differences in intraocular pressure.
At month 4, patients were given the choice of how to proceed with treatment. Eight of the 11 patients chose to receive the dexamethasone implant in both eyes. No patients asked for continued anti-VEGF injections in both eyes. The study was small and had short follow-up, but it was consecutive and internally controlled with a comparison of 2 matched eyes in the same patients. It successfully showed that matched chronic DME eyes improved with decreased mean central macular thickness and increased vision with both anti-VEGF and dexamethasone injections, but that the improvement was greater with a single dexamethasone injection than with 3 monthly anti-VEGF injections.
08.50
Does Internal Limiting Membrane Removal Improve the Results of Vitrectomy for Epiretinal Membrane?
John T. Thompson, MD, Retina Specialists, Baltimore, Maryland
Sidney A. Schechet, MD, and Eva DiVience, MD, University of Maryland, Baltimore, Maryland
Dr. Thompson presented a review of the literature examining whether complete removal of the internal limiting membrane (ILM) at the time of vitrectomy for epiretinal membrane (ERM) improves the visual acuity (VA) results, central macular thickness, or epiretinal membrane recurrence rate. The published literature has mixed results, with some studies showing no difference in VA improvement and central macular thickness improvement on OCT, while other studies showed a benefit for ILM removal.
Dr. Thompson presented a consecutive retrospective series of 251 eyes with vitrectomy for ERM. The first group of eyes had no ILM removal and the second group had ILM removal. The baseline characteristics were comparable. VA improvement and central macular thickness improvement were not significantly different between the 2 groups.
The ERM recurrence rate was 1.8% in the ILM peeling group compared to 22.9% when ILM was not peeled. None of the eyes with ILM removal required repeat vitrectomy to remove recurrent ERM, while 12.1% of eyes without ILM removal required repeat vitrectomy, often years later. ILM peeling should be considered when removing ERMs to minimize the risk of recurrence.
09.00
The Role of Inflammation in Retinal Vascular Disease: Focus on Diabetic Macular Edema
Baruch Kuppermann, MD, PhD, Gavin Herbert Eye Institute, University of California, Irvine
There is a growing body of evidence supporting a key role for inflammation and associated cytokines in the development of macular edema associated with retinal vasculopathy. A series of experimental and clinical studies has shown that a variety of inflammatory cytokines exhibit progressive elevation in the process of development of advancing retinopathy and macular edema, including MCP-1, IL-6, IL-1β, and others in addition to VEGF.
Clinical studies have shown that steroids are effective in treating macular edema caused by retinal vasculopathy including DME and macular edema associated with retinal vein occlusion. This effect of steroids on the treatment of macular edema appears to be effective both early and late in the development of macular edema, and may be even more pronounced in chronic macular edema. Conversely, there is clinical trial evidence that anti-VEGF therapy seems most effective in treating treatment-naïve or non-chronic macular edema, and less so with chronic disease. Interestingly, there is clinical data showing that DME treatment lowers intraocular levels of a wide variety of inflammatory cytokines in addition to VEGF, whereas anti-VEGF injections lower only VEGF levels without any apparent compensatory effect on the inflammatory cytokine cascade. Detailed pre-clinical and clinical data were presented supporting the role of inflammation in the development of macular edema, as well as the relative roles of intraocular steroids and anti-VEGF compounds for treating macular edema caused by retinal vasculopathy.
09.10
Fully Automated Identification of Lesion Activity in Neovascular AMD
Anat Loewenstein, MD, Tel Aviv Medical Center, Tel Aviv, Israel
Dafna Goldenberg, MD, Graham Young, Moshe Havilio, Omer Rafaeli, Gidi Benyamini and Usha Chakravarthy, MD, Tel Aviv, Israel
Dr. Anat Loewenstein presented her group's study on the accuracy of an automated detection technology in evaluation of choroidal neovascularization activity, as compared to that of retina specialists. In this prospective study, the performance of the automated system was compared to that 3 retina specialists. The study evaluated OCT scans of 165 AMD patients. Each scan set was analyzed by the NOA, and by 3 independent retina specialists for the presence of intraretinal or subretinal fluid.
NOA also ranked cross-sections of scans for likelihood of choroidal neovascularization (CNV) activity, allowing a second grading session by the three RS. In the study, 142 scan sets met the criteria for the primary analysis. On testing the RS grading vs the NOA, the accuracy was 91% (95% CI ±7%), sensitivity was 92% (±6%), and specificity was 91% (±6%). On average, the 3 readers could identify fluid in 95% of scans by just reviewing a single cross section with the highest NOA score; identifying 99.5% of scans by viewing the top 3 detection technology is feasible in the evaluation of CNV activity.
09.20
Targeting Tissue Factor in Exudative AMD
Christine R. Gonzales, MD, Retina and Vitreous Center, Ashland, Oregon on behalf of the Iconic Therapeutics, Inc. Research Group
ICON-1 (Iconic Therapeutics, Inc, South San Francisco, CA) is a novel immunoconjugate fusion protein with a new target and new possible mechanism of action being evaluated for the treatment of neovascular AMD. The molecule is composed at the targeting domain of a mutated factor VIIa protein and at the effector domain, the Fc region from a human IgG1 immunoglobulin. It binds to tissue factor (TF), which is overexpressed in CNV and mediates inflammatory and angiogenic processes in wet AMD through extra- and intracellular signaling.
ICON-1 has the potential to antagonize TF-signaling and to mediate antibody-dependant cell-mediated cytotoxicity of the CNV tissue. Its effect on CNV growth has been demonstrated in a variety of preclinical models, and there were no safety signals identified in a Phase 1 open-label dose-escalating clinical trial.
The objective of the Phase 2 (EMERGE) Study was to examine the hypothesis that ICON-1 can inhibit exudation and alter CNV progression either alone or in combination with ranibizumab as compared to ranibizumab alone. The safety and biological activity of repeated intravitreal doses were evaluated.
The study enrolled 88 treatment-naïve (in the study eye) patients with CNV secondary to AMD. Patient inclusion criteria included:
≥ 50 years of age
Active primary CNV due to AMD
Best-corrected visual acuity (BCVA) of 70 to 24 letters (worse than 20/40 and up to 20/320 Snellen equivalent) in the study eye
Lesion characteristics include:
a total lesion size <6 disc areas (DA)
CNV >50% of lesion size
Presence of retinal fluid on spectral-domain optical coherence tomography (sdOCT)
Patients were randomized in a 1:1:1 ratio to receive intravitreal injections of ICON-1 (0.3 mg) as monotherapy, ICON-1 (0.3mg) in combination with ranibizumab (0.5 mg), or ranibizumab (0.5 mg) as monotherapy. Patients received 3 initial monthly injections followed by maximum 3 additional monthly injections based on protocol retreatment criteria, for a total of 6 months of treatment.
The primary outcomes are ocular and non-ocular safety; secondary outcomes include mean change from baseline in BCVA letter score and in central retinal thickness (CRT) at 3 months. The Phase 2 EMERGE study will provide important insight into whether intravitreally administered ICON-1, with its novel anti-TF mechanism of action, administered as monotherapy or in combination with ranibizumab, is safe and leads to a modification of the CNV lesion along with reduction of leakage and BCVA improvements.
Reference
Silodor SW, Augsburger JJ. Shields JA, Tasman W. Natural history and management of advanced Coats' disease. Ophthalmic Surg. 1988;19(2):89-93.