ASRS Presidents' Young Investigator Award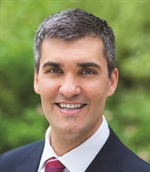 The Presidents' Young Investigator Award was established to honor past leaders of ASRS. It serves as a means to nurture the development of the next generation of retina leaders and encourage researchers to undertake investigative work in critical areas of retinal diseases that may one day lead to meaningful improvements in patients' lives.
The award is given in recognition of an outstanding paper published during the past year and other accomplishments of the investigator that signal potential for impactful contributions to the field in the future.
Charles C. Wykoff, MD, PhD,
2020 ASRS Presidents' Young
Investigator Award Recipient
---
Eligibility Criteria
45 years of age or younger at the time the paper is published
Member of the ASRS
Must be first or senior author on the paper submitted for consideration
Paper must be original and published in print or e-published in a peer-reviewed journal within the last 12 months (January 1, 2020–December 31, 2020)
Individuals may nominate themselves or others may nominate them once the paper has been published.
To be considered, nominees must submit the published paper, including all illustrations and online links, acknowledgement from senior author (if first author is applicant) or first author (if senior author is applicant) that candidate is in fact the primary investigator, a CV, and a paragraph summarizing the significance of their work (250 words or less).
Award
The Young Investigator Award will be given at the ASRS Annual Meeting, and the recipient will receive a $15,000 honorarium.
Application Process: The application materials will be submitted online to ASRS. The deadline for the 2021 Young Investigator Award is April 1, 2021, and it will be publicized in Retina FYI and by direct e-mails to members.
Review Process: The Foundation Executive Committee will serve as the awards committee and select the recipient.
A maximum of one award will be given per year at the discretion of the Foundation Executive Committee.
The ASRS Young Investigator Award is made possible by grant from Regeneron.
---
Past Recipients
2014 Rajendra Apte, MD, PhD
2015 Hendrik PN Scholle, MD, MA
2016 Jayakrishna Ambati, MD
2017 SriniVas R. Sada, MD
2018 Rishi P. Singh, MD
2019 Sophie J. Bakri, MD
2020 Charles C. Wykoff, MD, PhD