ASRS Presidents' Young Investigator Award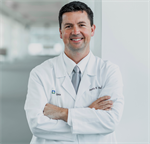 The Foundation of the American Society of Retina Specialists has selected Justis P. Ehlers, MD, FASRS, as the winner of the ninth annual ASRS Presidents' Young Investigator Award. Dr. Ehlers serves as the Norman C. and Donna L. Harbert Endowed Chair for Ophthalmic Research at the Cole Eye Institute of the Cleveland Clinic. He is also the director of the Tony and Leona Campane Center for Excellence in Image-Guided Surgery and Advanced Imaging Research.
The ASRS Presidents' Young Investigator Award is given by the Foundation to honor past presidents of our Society by nurturing the development of next-generation retina leaders. It recognizes an ASRS member age 45 or younger who has made substantial contributions to the field of retina that will potentially improve our patients' lives. The winner receives a $15,000 honorarium. We are grateful for support of this award through a grant from Regeneron Pharmaceuticals, Inc.
Since 2010, Dr. Ehlers' laboratory at the Cole Eye Institute has focused on translational intraoperative optical coherence tomography (OCT) technology, image-guided surgery, advanced image analysis, and imaging biomarker discovery. He has authored more than 200 peer-reviewed publications, 25 book chapters, and over 225 scientific abstracts. Dr. Ehlers has also been the senior editor for 3 books and has given over 75 invited lectures. His work has resulted in multiple patents.
Dr. Ehlers has been recognized through numerous awards, including the ASRS Presidential Award, the American Academy of Ophthalmology (AAO) Senior Achievement Award and Secretariat Award, the Heed Fellowship, The Ophthalmologist's Power List—Top 40 Under 40, and the Ronald Michels Fellowship. He has served on the ASRS Board of Directors and on the AAO Council since 2019.
At the Cleveland Clinic, Dr. Ehlers has been the medical director for continuous improvement, functioned as the Global Leadership and Learning Institute physician liaison for unconscious bias training; he has also served on the Case Western Reserve University School of Medicine Faculty Council and the Cleveland Clinic Professional Staff Advisory Council.
---
Past Recipients
2014 Rajendra Apte, MD, PhD
2015 Hendrik PN Scholle, MD, MA
2016 Jayakrishna Ambati, MD
2017 SriniVas R. Sada, MD,
2018 Rishi P. Singh, MD, FASRS
2019 Sophie J. Bakri, MD, FASRS
2020 Charles C. Wykoff, MD, PhD, FASRS
2021 Arshad M. Khanani, MD, MA, FASRS
2022 Justis P. Ehlers, MD, FASRS