Remembering ASRS Past President Paul Tornambe, MD (1946-2019)
The retina community is mourning the loss of ASRS Past President Paul Tornambe, MD, who died of pulmonary fibrosis on December 23, 2019. "Paul fought a hard battle, as all would expect from him, undergoing 2 double lung transplants before passing at age 73," said ASRS President Timothy Murray, MD, MBA. "Those of us who knew Paul would agree he was tenacious—always focused on doing what was best for his patients."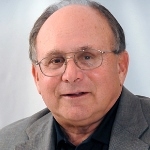 Paul Tornambe, MD
Paul Tornambe is perhaps best remembered for his role in standardizing pneumatic retinopexy, an in-office procedure for treating retinal detachments, but this was just one of his myriad major accomplishments. He was a founding member of the Vitreous Society and stewarded the Society for decades, serving as president from 2003 to 2004 and maintaining an academic appointment at the University of California-San Diego while heading a private practice in San Diego. "Paul was a master of our craft—a consummate clinician," said Dr. Murray.
A lifetime of scientific contributions
In a retina career spanning more than 40 years, Paul Tornambe was renowned as an innovator, inventor, worldwide lecturer, and author. He was a pioneer in pneumatic retinopexy, in collaboration with the late George Hilton, MD, and Sanderson "Sandy" Grizzard, MD (Vitreous Society 1986-1988 president).
'Those of us who knew Paul would agree he was tenacious—always focused on doing what was best for his patients.'
—Timothy Murray, MD, MBA
"This method was initially not met with much enthusiasm, but Paul organized a multicenter study showing it to be an effective treatment for many retinal detachments," said ASRS 2012-2014 President John Thompson, MD. "Paul had an innovative mind that challenged dogma in retina and proposed new treatments that have become part of our repertoire for managing retinal diseases."
Another of his major accomplishments was in publishing the first paper showing that facedown positioning was not required in eyes with prior cataract surgery to achieve a high success rate for treating macular holes. "This challenged the prevailing belief that 1 to 2 weeks of facedown positioning was essential," Dr. Thompson explained. Paul Tornambe's landmark publication stimulated many studies by others, which have decreased the duration of facedown positioning for patients with macular holes.
"From his involvement in the early years of the Vitreous Society and on into the ASRS, Paul Tornambe was a force for learning and for change. His ideas were crystal clear, and he was not in any way afraid to let everyone know what he thought," said Roy Levit, MD, the Society's co-founder and first president.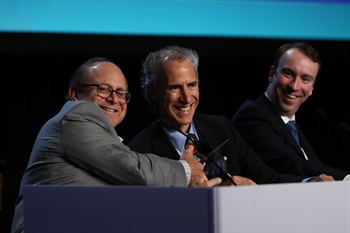 A lighter moment from the 2014 ASRS Annual Meeting in San Diego. "When we started the Vitreous Society, ties were forbidden by founding member Sandy Grizzard," said Paul Tornambe, MD (left). "He threatened to cut anyone's tie off if it wasn't removed immediately. We felt—and I still believe—that the more formal the dress, the less likely people will speak their mind." Also pictured: Robert Wendel, MD, and Christopher Brady, MD.
"Paul was coherent, concise, and always made sense, Dr. Levit added. "Pneumatic retinopexy exists today in all of our office practices due to Paul's insistence that this was a better mousetrap. His wry sense of humor was on point, and I, as well as the rest of the world's retinal community, will miss Paul's presence."
Jerry Bovino, MD, ASRS co-founder and second president, recalls the now-famous "Tinkerbell" lecture on pneumatic retinopexy that Paul Tornambe delivered more than 30 years ago at a Vitreous Society meeting in Florida. "He went around the room sprinkling imaginary 'fairy dust,' asking everyone in the audience what they would do if Tinkerbell could magically fly into the eye and put the retina back in position. 'Wouldn't they simply laser or cryo the tear?' he asked."
"I first met Paul when he was a resident over 40 years ago while training at California Pacific Medical Center," said Allen Verne, MD, ASRS co-founder and third president. "He made grand rounds and FA conferences especially stimulating. Paul was great fun to be around, and managed to challenge and inspire everyone around him to be better." Allen Verne also recalls Paul Tornambe's enthusiastic advocacy for retina subspecialty certification.
Bridging academics and private practice
Many retina discoveries over the past several decades have come from private-practice physicians who dared to be different. "Academics is a frame of mind, not a job description by an employer," said ASRS 2001-2002 President Kirk Packo, MD. "Paul wore well the badge of 'academician'—and he did it all while in private practice. He lived and breathed the attributes of this descriptor better than most anyone.
"As a true academician, he challenged the norms. He put hypotheses to the test of clinical trials … he learned from colleagues … he collaborated … and most importantly, he shared his knowledge with others," Kirk Packo added. "He did so in print, at the podium, on the golf course, and as a leader in our societies.
'Paul wore well the badge of "academician"—and he did it all while in private practice.' —Kirk H. Packo, MD
"When I was starting in practice, I joined Paul on this academics journey in the first pneumatic retinopexy trial," said Dr. Packo. "There, I saw just how masterful the wearing of that badge of academics could be. I am grateful to Paul for being my muse, my inspiration, and my friend."
Paul Tornambe collaborated with ASRS 2014-2016 President Tarek Hassan, MD, on a contact lens for vitreous surgery. "When I was young and first started in retina, he not only treated me with respect and kindness, but took the time to listen to my thoughts and help cultivate my interest in product development, surgically based research, and leadership," said Dr. Hassan. "We worked on many things together in seemingly every aspect of retina, from developing lenses to serving ASRS, and I truly enjoyed every second of our interactions. He was a large part of my past, and his memory will be a larger part of my future.
"Like all who were close to him, I was blessed to get the 'real Paul' every time I interacted with him," Dr. Hassan added. "His overwhelming kindness, aggressive wit, infectious enthusiasm, and genuine love for colleagues, patients, and friends were truly unique and will be greatly missed in my life."
'Paul had an innovative mind that challenged dogma in retina and proposed new treatments that have become part of our repertoire for managing retinal diseases.' —John T. Thompson, MD
A common thread is the impact that Paul Tornambe had on retina specialists early in their careers. "I first met Paul soon after I started practice," recalled Retina Times Editor in Chief Sunir Garg, MD, FACS. "To me, he was already a luminary in the field. I had read most of his papers on pneumatic retinopexy as a fellow. After seeing him at a meeting, I picked his brain about pneumatic retinopexy (and some of the findings from the studies--a total nerd move, I know). Even though I was a young kid in practice, he was warm and answered my questions patiently. He continued to challenge the status quo, but in a manner filled with humor—a rare talent, indeed."
Encouraging collaboration
Paul Tornambe had a special talent for bringing people together from around the world—whether for scientific gatherings or musical adventures. In 2005, he launched the International Masters of Retina, a meeting reminiscent of the smaller, "one-on-one" meetings of the Vitreous Society's early days. "Each year, several hundred vitreoretinal specialists participate in Paul's International Masters of Retina meeting, presenting and discussing many of our field's most complex patient management problems," said Timothy Murray, MD, MBA. Paul Tornambe also founded Challenge the Masters, a session held each year at the ASRS Annual Meeting.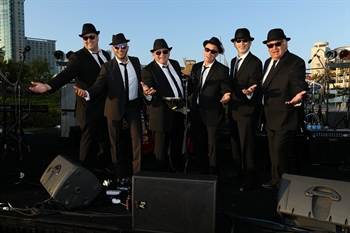 The Brilliant Blues Brothers debuted at the 2014 ASRS Annual Meeting in San Diego.
In 2014, Paul Tornambe issued a call for ASRS member musicians interested in forming a band to perform at the Society's 32nd Annual Meeting in San Diego. Members of the Brilliant Blues Brothers hailed from across the United States, as well as Italy and Australia; they held virtual practice sessions for months before bringing down the house in their debut at the 2014 Annual Meeting.
Excelling in private practice
In 1979, Paul Tornambe founded Retina Consultants San Diego, which has grown to offices in 5 locations. Practicing with him has had a lasting impact on his partners.
"Paul had an engaging personality and was great fun to work with. He was witty and entertaining, and enjoyed challenging the status quo," said Anne Hanneken, MD. "Paul was a true maverick. Anyone who knew him was aware of how he never shied away from a controversial subject or shortchanged a colleague who needed his advice. There was never a subject too complex or an issue too small for his attention."
'He continued to challenge the status quo, but in a manner filled with humor—a rare talent, indeed.'
—Sunir J. Garg, MD, FACS
"I was lucky enough to have worked with Paul Tornambe for the past 8 years, and I cherish every minute of it," said Nikolas London, MD. "Paul was an incredible mentor, a model of what it means to be a doctor, and an unstoppable driver of excellence in patient care. He always had time to help me or anyone else who needed it, and without a doubt, he made me a better physician. Along with so many others whose lives he touched, I will miss him dearly."
Leaving an enduring legacy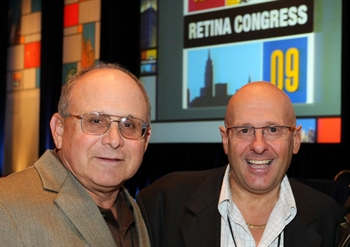 Paul Tornambe, MD, and the late Cesare Forlini, MD, of Ravenna, Italy, at the ASRS 2009 Annual Meeting in New York.
Paul Tornambe had a simple philosophy: "My father, a primary care physician, told me on the day I graduated from medical school, 'All you have to do to be successful in medicine is do what is best for your patients; everything else will follow,'" he explained. "That has been my secret to a successful career. I simply treat my patient as if they were a family member."
"Paul approached each patient with caring and compassion. He could immediately put the patient at ease when he came into the room by finding common ground," said Anne Hanneken, MD. "Paul was never rushed, and took as much time as necessary to answer all the questions and review all the options.
"Patients loved him," Dr. Hanneken added." They would fly into San Diego from all over the world to get his opinion and expertise. "Many patients came in with macular holes since he advocated for 'no facedown positioning,' which made their postoperative recovery much more comfortable. His patients were forever grateful."
'Patients loved him. They would fly into San Diego from all over the world to get his opinion and expertise.'
—Anne Hanneken, MD
Paul Tornambe will be fondly remembered for his inquisitive, scientific mind. "I've ALWAYS been one to question everything we do and look for better ways to treat retinal diseases," he told Retina Times in 2016.
Even when faced with pulmonary fibrosis, he persevered. "My last visit with Paul was when he came up to Stanford for a checkup after his second lung transplant," Allen Verne recalled. "Remarkably, he was his typical self— upbeat, still working, and of course playing golf."
Paul Tornambe realized that his prognosis was probably less than a year. "Even with this grim future, he kept working and pursuing his love of ophthalmology until he was no longer able," Allen Verne added. "I found him inspirational in the way he fought and confronted the end of his life, with fervor, courage, honesty and even humor."
"Paul Tornambe and I were close friends for more than 40 years," said Jerry Bovino. "He was one of the most special men I have ever met. Paul was a brilliant clinician, a skilled surgeon, and a devoted husband and father. He was a leader in the Vitreous Society from its beginnings.
"I could list so many of Paul's accomplishments," Dr. Bovino added, "but the most important thing I can say about him is what we all hope others will say about us someday: Paul was a really nice guy!"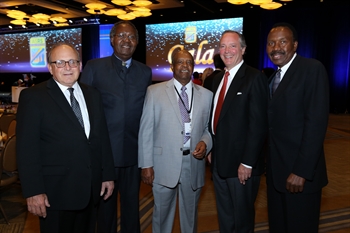 At the 2014 ASRS Annual Meeting, legendary pro golfer Lee Elder (center) was the guest of Paul Tornambe, MD, at the Gala Dinner. (l-r): Paul Tornambe, MD; Shelby Wilkes, MD, MBA; Lee Elder, Alexander Brucker, MD; Emanuel Wilkes, MD.
"For me, and for the ASRS, Paul's passing marks the loss of one of the Society's giants," said Timothy Murray, MD, MBA. "Paul will forever be missed."
Memorial service January 17
A memorial service is being planned for 10:00 AM on Friday, January 17 at St. Michael's Catholic Church in Poway, California, followed by an informal lunch at Maderas Golf Club. RSVP: bit.ly/paultornambe.
The family has asked that in lieu of flowers, you consider a small donation to Dr. Tornambe's Retina Research Foundation of San Diego. Please click here for details.