Gruppo Italiano di Chirurgia Vitreoretinica (GIVRE)
website: http://www.givre.it/
Delegate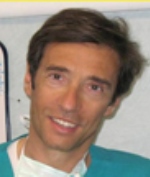 Stanislao Rizzo, MD
050992770 (Office)
Via Roma 66
Pisa, 56100 , IT
stanislao.rizzo@gmail.com
About



Since 1999, GIVRE, the Italian Group of Vitreoretinal Surgery, has offered Italy's retina specialists a fundamental meeting point for professional development and debate. GIVRE has 280 members; its 2013 annual meeting, held in Turin, Italy, on June 7-8, drew more than 300 retina specialists.
GIVRE organizes courses, conferences, and meetings to promote the exchange of ideas and dissemination of knowledge about improved vitreoretinal surgical techniques and treatment. Many times, GIVRE meetings feature a guest lecture by an international visiting speaker.
GIVRE is also focused on research, with the aim of developing institutional clinical trials as well as diagnostic and therapeutic guidelines. Each year, in association with the Italian Ministry of Health and Italy's regions, hospitals, and scientific ophthalmological societies, GIVRE sponsors several projects and studies to improve knowledge of vitreoretinal diseases. The organization would like to collaborate with ASRS in organizing educational initiatives, meetings, and trials.
One of GIVRE's main purposes is to promote the next generation of retina surgeons; the organization dedicates sections of the annual conference to them, and supports them with awards and scholarships.
The GIVRE website, www.givre.it, features a password-protected member discussion forum and the GIVRE Journal. There is also an informative patient education section designed to raise awareness about diseases of the retina, as well as prevention and treatment.
Next year's GIVRE annual meeting will be held in Milan; the 2015 meeting will be in Venice, and the 2016 meeting is planned for Trieste. For more information on GIVRE, visit www.givre.it.