ECS Member Spotlight: Jessica D. Randolph, MD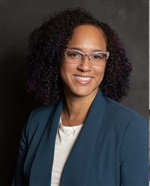 Early Career Section member Jessica D. Randolph, MD, is an assistant professor at Virginia Commonwealth University and practicing vitreoretinal surgeon at VCU Health System in Richmond, VA. She has been a member of the ASRS Women in Retina (WinR) section since 2014, and joined the WinR Board in 2017. She currently serves as Treasurer. In her first Board role as chair of the Communications Committee, she created and managed the WinR Facebook group. In 2020, Dr. Randolph was the ASRS-sponsored participant of the AAO Leadership Development Program, and used this opportunity to redesign the WinR Mentorship Program.
Dr. Randolph is an advocate for improving medical education and completed a post-baccalaureate program in Adult Medical Education at VCU and is the AUPO Medical Student Educator.Her other contributions to the VCU residency program include redesigning the curriculum to include alternate learning activities, such as POGIL, patient simulation, and flipped-classroom style activities.
Beyond residency program improvement and surgical practice, Dr. Randolph is passionate about diversity and inclusion in both medicine and healthcare. She brings this passion to ASRS, having recently served as a recruitment and mentoring program developer for the ASRS Ad-Hoc Committee on Diversity and Inclusion.
An active member of the National Medical Association, Dr. Randolph has chaired the retina section of the annual NMA meeting for two consecutive terms and is a faculty participant in the Rabb Venable Excellence in Ophthalmology Program. She looks to expand her work as a new member of the AAO Sub-Task Force on Enhancing Workforce Diversity and as a mentor for the AAO Minority Ophthalmology Mentoring Program.
"When I think of Jessica Randolph, I think the future of our profession is in good hands," says WinR Chair Emeritae Nancy Holekamp, MD. "Jessica is at the vanguard of a younger generation of retina specialists who have new ideas for making all of us better through education, mentoring, diversity, and inclusion. Jessica is a person of action. Leadership is taking people where they wouldn't go on their own. I will follow wherever Jessica leads."
ASRS Executive Committee Member and WinR Chair Judy Kim, MD, regards Dr. Randolph as "a consummate educator, who translates her innovative concepts into innovative teaching modalities. Beyond her work as a retina practitioner and educator, and vigorously pursuing her passion for enhancing diversity and inclusion in medicine and healthcare, Jessica is also a new mother to a beautiful set of twins. With her innovative spirit, passion, and action, Jessica is certainly an outstanding member of ASRS who will contribute greatly to our field. The future of ophthalmology is bright with such a capable colleague like Jessica leading us in to the future."
Interested in becoming involved in the ASRS? Email caroline.bozell@asrs.org with your areas of interest.