Crystal Apple Award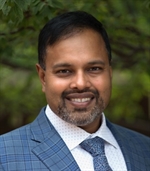 The ASRS Early Career Section (ECS) awarded Seenu M. Hariprasad, MD, the Crystal Apple Award for excellence in teaching and mentorship at its 2019 Annual Meeting.
Dr. Hariprasad is chief of the Vitreoretinal Service, director of clinical research, and director of Fellowship in Diseases and Surgery of the Retina, Macula, and Vitreous at the University of Chicago Medicine & Biological Sciences.
After receiving the Crystal Apple Award, Dr. Hariprasad delivered a lecture, "Hindsight is 20/20: Advice From an Academic Retina Specialist to the Next Generation," at the ECS lunch.
Dr. Hariprasad, who is also the inaugural Shui-Chin Lee Professor of Ophthalmology and Visual Science at the University of Chicago, is known for his passion for education and his lifelong dedication to teaching future retina leaders.
His clinical research has contributed to the understanding and use of new medications to combat a wide variety of vitreoretinal disorders, and he has served as principal or sub-investigator in more than 45 national and international clinical trials. Dr. Hariprasad has published nearly 200 peer-reviewed articles, meeting abstracts, and textbook chapters and has presented more than 150 lectures in cities around the world.
---
The Crystal Apple is a special recognition that is presented to an ASRS member who has gone to great lengths to advance the education and professional development of young vitreoretinal specialists. In addition to receiving the award, each year's recipient also presents a distinguished lecture during the Early Career Section's Annual Meeting luncheon.

Past winners include:
2018 - Audina M. Berrocal, MD
2017 - James Folk, MD and Lawrence Yannuzzi, MD
2016 – Lee Jampol, MD
2015 – Hugo Quiroz-Mercado, MD
2014 – Alexander J. Brucker, MD
2013 – Daniel Martin, MD
2012 – Dean Eliott, MD
2011 – Allen C. Ho, MD
2010 – Andrew P. Schachat, MD
2009 – Robert C. Watzke, MD
2008 – Stanley Chang, MD
2007 – Michael T. Trese, MD
2006 – Harry W. Flynn, Jr., MD
2005 – William Mieler, MD
2004 – Julia A. Haller, MD
2003 – Paul Tornambe, MD
2002 – Not given
2001 – George Williams, MD
2000 – Eugene de Juan, Jr, MD
1999 – Kirk Packo, MD