Crystal Apple Award
The Crystal Apple is a special recognition that is presented to an ASRS member who has gone to great lengths to advance the education and professional development of young vitreoretinal specialists. In addition to receiving the award, each year's recipient also presents a distinguished lecture during the Early Career Section's Annual Meeting luncheon.
---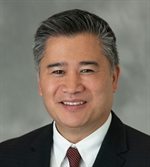 2021 Crystal Apple Award Winner
The ASRS Early Career Section (ECS) has selected R.V. Paul Chan, MD, MSc, MBA, FACS, as the winner of the 2021 Crystal Apple Award for excellence in teaching and mentorship.
Dr. Chan is the department head and the John H. Panton, MD Professor of Ophthalmology at the Illinois Eye and Ear Infirmary of the University of Illinois at Chicago (UIC). He is co-director of the Vitreoretinal Fellowship and serves as director of the Pediatric Retina and Retinopathy of Prematurity (ROP) Service.
Dr. Chan's career has focused on educating future ophthalmologists; he has trained, mentored, and collaborated with many international leaders in ophthalmology and ROP program development.
Dr. Chan is a global leader in pediatric blindness prevention and ROP. He is a core team member of the Imaging and Informatics for ROP (i-ROP) consortium and leads the Global Education Network for ROP (GEN-ROP), an international collaboration of investigators with expertise in neonatology, ophthalmology, biomedical informatics, international health, and medical education.
Together, iROP and GEN-ROP have published extensively, contributing to our understanding of pediatric retina, medical education, artificial intelligence, and imaging. They have developed tele-education and telemedicine programs, and have established clinical, teaching, and research collaborations around the world. Dr. Chan also serves as a consultant for programs sponsored by the United States Agency for International Development (USAID), Orbis International, and Helen Keller International.
Dr. Chan works closely with the ASRS on educational programs for vitreoretinal fellows. He is co-chair of the Society's Fellowship Directors Section and chair of the Fellows' Activity Log Committee. Dr. Chan also has served as co-chair of the ASRS Education and Training Committee, working to provide fellows with educational resources to complement their training.
---
Past recipients:
2020 - Caroline R. Baumal, MD
2019 - Seenu M. Hariprasad, MD

2018 - Audina M. Berrocal, MD
2017 - James Folk, MD and Lawrence Yannuzzi, MD
2016 – Lee Jampol, MD
2015 – Hugo Quiroz-Mercado, MD
2014 – Alexander J. Brucker, MD
2013 – Daniel Martin, MD
2012 – Dean Eliott, MD
2011 – Allen C. Ho, MD
2010 – Andrew P. Schachat, MD
2009 – Robert C. Watzke, MD
2008 – Stanley Chang, MD
2007 – Michael T. Trese, MD
2006 – Harry W. Flynn, Jr., MD
2005 – William Mieler, MD
2004 – Julia A. Haller, MD
2003 – Paul Tornambe, MD
2002 – Not given
2001 – George Williams, MD
2000 – Eugene de Juan, Jr, MD
1999 – Kirk Packo, MD