Crystal Apple Award
The Crystal Apple is a special recognition that is presented to an ASRS member who has gone to great lengths to advance the education and professional development of young retina specialists. In addition to receiving the award, each year's recipient also presents a distinguished lecture during the Early Career Section's Annual Meeting luncheon.
---
2023 Crystal Apple Award Winner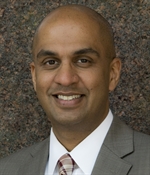 The ASRS Early Career Section (ECS) has selected Prithvi Mruthyunjaya, MD, MHS, FASRS, as the winner of the 2023 Crystal Apple Award for excellence in teaching and mentorship. Dr. Mruthyunjaya is a professor of ophthalmology and radiation oncology at Stanford University, a member of the vitreoretinal surgery service, and director of ocular oncology at the Byers Eye Institute.
As director of the vitreoretinal surgery fellowship at Stanford, he and his 14 colleagues have created a renowned, academic-focused retina training program. Dr. Mruthyunjaya has trained more than 50 retina and ocular oncology fellows who have distinguished themselves by their clinical excellence, research innovations, leadership, and notable recognition by leading retina organizations.
The Crystal Apple Award is a special recognition presented to an ASRS member who has gone to great lengths to advance the education and professional development of young vitreoretinal specialists.
Dr. Mruthyunjaya is a clinician-educator whose clinical interest lies in a multidisciplinary, vitreoretinal approach to ocular tumors and complex vitreoretinal disorders. He manages both adult and pediatric ocular cancers with a focus on novel therapeutics, intraocular biopsy, and vision-saving strategies to reduce treatment toxicity.
As a National Institutes of Health-funded investigator and recipient of the Retina Research Foundation/Macula Society Research awards, he has coauthored over 200 peer-reviewed publications and textbook chapters. Collaboration is a hallmark of his career; Dr. Mruthyunjaya was a founding member of the Ocular Oncology Study Consortium, and serves on the executive committee of the Collaborative Ocular Oncology Group and the protocol committee of the DRCR Retina Network.
For nearly 20 years, Dr. Mruthyunjaya has engaged in endeavors to promote and advance the education of retina trainees. He chairs the Retina Society's fellowship awards committee, was co-director of the inaugural Duke Fellows Advanced Vitreous Surgery Course, co-founded the Cole Eye Institute and Byers Eye Institute Retina Fellow Surgical Rounds (COBRA) Conference, co-chairs the Young Retina Connect for the Retina World Congress, and has organized or lectured at numerous retina fellow training courses including surgical wet labs. He has participated in formal mentorship programs with the ASRS and the American Academy of Ophthalmology.
Dr. Mruthyunjaya serves on the editorial boards of Retina Times, Retina, and AJO Case Reports. He has been honored with the Heed, Heed-Knapp, and Ronald G. Michels Foundation fellowships, the ASRS Presidential Honor Award, the American Academy of Ophthalmology Senior Achievement and Secretariat Awards, and is an inductee into the Retina Hall of Fame. He has won the Educator of the Year Award at both Duke and Stanford University.
---
Past recipients:
2022 - Sharon Fekrat, MD, FACS, FASRS
2021 - R.V. Paul Chan, MD, MSc, MBA, FACS
2020 - Caroline R. Baumal, MD
2019 - Seenu M. Hariprasad, MD

2018 - Audina M. Berrocal, MD
2017 - James Folk, MD and Lawrence Yannuzzi, MD
2016 – Lee Jampol, MD
2015 – Hugo Quiroz-Mercado, MD
2014 – Alexander J. Brucker, MD
2013 – Daniel Martin, MD
2012 – Dean Eliott, MD
2011 – Allen C. Ho, MD
2010 – Andrew P. Schachat, MD
2009 – Robert C. Watzke, MD
2008 – Stanley Chang, MD
2007 – Michael T. Trese, MD
2006 – Harry W. Flynn, Jr., MD
2005 – William Mieler, MD
2004 – Julia A. Haller, MD
2003 – Paul Tornambe, MD
2002 – Not given
2001 – George Williams, MD
2000 – Eugene de Juan, Jr, MD
1999 – Kirk Packo, MD