Business of Retina Testimonials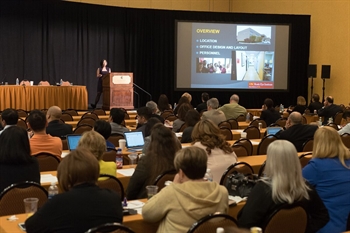 ASRS members offer their thoughts on why the Business of Retina Meeting is a must-attend' annual event.

---
"There are so many retina meetings available, it is sometimes hard to prioritize and decide which ones are worthwhile. For the last 3 years I've been going to the ASRS Business of Retina Meeting and have found it invaluable. The organizers have designed it to provide insights and ideas about real business issues that I face every day. I have found it a great place to learn about these topics, and network with my colleagues who face the same concerns."
– Tom Stone, MD, Retina Consultants of Kentucky
---
"In my humble opinion out of all of the annual meetings, the Business of Retina Meeting helps me the most as an administrator for my practice. Apart from keeping me abreast of all recent changes and developments in our specialty, perhaps equally if not more important is the opportunity to directly interact and communicate with my peers and key opinion leaders in the retina field."
– Shawn Harkey, MHA, Retina Practice Administrator, Houston Retina

---
"The ASRS Business of Retina Meeting is the most helpful meeting I've attended regarding the business side of medicine over the last 10 years. This meeting is designed for the managing partner and practice administrators. The topics covered each year are concise, timely and very high yield!"
-– Cameron Javid, MD, Retina Associates SW, P.C.
---
"I find the Business of Retina Meeting to be the most beneficial to attend. The talks are relevant and pertain to just the issues that retina practices face, without much discussion of general ophthalmology concerns that are heard in most annual meetings. If I had to pick only one meeting to attend each year, the ASRS Business meeting would be my first choice."
--Alison Ratliff, MBA, Chief Executive Officer, South Coast Retina Center

---
"The ASRS Business of Retina Meeting is a one-of-a-kind meeting. As a young retina specialist, it was a wonderful opportunity to meet other physicians, practice administrators and staff around the country and learn about the ongoing issues that affect us all that are generally not discussed at other meetings. We all face common challenges including insurance issues, managing staff, managing drug float, changes and decline in reimbursement, interfacing with private equity, etc. The meeting was a unique and wonderful opportunity to exchange ideas and experiences, and learn from each other about creatively dealing with these issues!"
-- Bozho Todorich, MD, PhD, Pennsylvania Retina Specialists

---
"When I was first starting my career as a retina administrator, the ASRS Business of Retina Meeting was the first retina meeting I attended. I learned a tremendous amount of information that I was able to bring back and implement in our group. I also met many great contacts and colleagues who I still stay in contact with to this day. Every meeting has useful content I can use to help improve our practice."
–David Gavin, BS, MBA, Retina Practice Administrator, Palmetto Retina Center, LLC

---
"I look forward to attending the Business of Retina Meeting each year. I believe it is an important conference to attend for any retina practice administrator or physician to garner specific information on our specialty and is a great place to collaborate with your peers."
– Stephanie Collins, MBA, Practice Administrator, Austin Retina
Some content on this page is restricted to access by members only.