21st Annual Business of Retina Meeting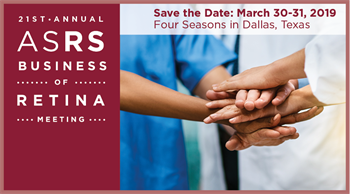 The 21st Annual Business of Retina Meeting will be held March 30-31, 2019 at the Four Seasons in Dallas, Texas. This popular course is designed for retinal physicians and administrators of vitreoretinal practices to learn the business principles necessary to maximize practice success in an increasingly complex medical environment.
Exhibitor contracts can be downloaded here. Please send complete contracts to sam.zerang@asrs.org by March 1, 2019.
An agenda will be forthcoming soon. For travel planning purposes, the meeting hours are approximately 8 AM to 5 PM on Saturday, March 30 and 8 AM to 12 PM on Sunday, March 31.
---
Course Fees:
Early Bird Rate (By February 22, 2019)
Members: $550.00
Nonmembers: $725.00
Technician/Practice staff: $550.00
Fellow-In-Training: $300.00
Regular rate (After February 22, 2019)
Members: $620.00
Nonmembers: $765.00
Technician/Practice staff: $620.00
Fellow-In-Training: $300.00
IMPORTANT: when registering more than one individual, you must "sign out" after each registration is completed.
---
Cancellation Policy
Refunds will be granted to registrants who submit written requests prior to February 22, 2019, less an administrative fee of $100. Requests must be in writing and will not be accepted over the phone.
---
Room Reservations
Four Seasons Resort & Club
Dallas at Las Colinas
4150 North MacArthur Blvd, Irving TX
Room rate: $242 plus $14.50 resort fee and taxes. Room block extended through February 28, 2019 or until sold-out.
To make reservations by phone, please call (972) 717-2499 and mention the group name (ASRS 21st Annual Business of Retina Meeting).
Audio-Visual Likeness Release: At this event, the American Society of Retina Specialists may be photographing, videotaping, and/or audio-taping. Through your participation, you acknowledge these activities and agree to allow your image and likeness, if recorded, to be used by the ASRS in Society publications, on the ASRS website, and in marketing and promotional materials. Attendees of this ASRS event waive all claims against the Society for any liability resulting from these uses. Attendees agree that no compensation will be received in connection with the recording, use or distribution of their images.