Nicholas G. Douvas, MD: 1921–2011
Retinal pioneer and inventor of the "Roto-Extractor"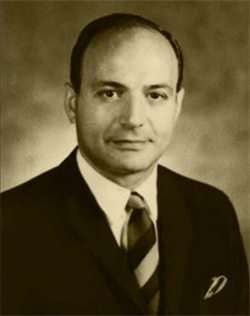 Nicholas G. Douvas, MD
Nicholas G. Douvas, MD, retinal pioneer and inventor of the "Roto-Extractor," passed away on December 26, 2011 in Key Largo, FL at age 90. Dr. Douvas was born on November 16, 1921 in Hastings, Nebraska. He graduated from high school in Hastings, where he was valedictorian and was selected as an all-state performer in football, swimming, and debate.
Dr. Douvas was especially proud of his debate talents; he frequently recounted to anyone who would listen the story of how he beat former senator and presidential candidate Bob Dole in a debate event.
He attended the University of Nebraska for college and medical school, receiving his MD degree in 1945. At the U of N, Dr. Douvas continued to excel academically and was elected to both Phi Beta Kappa and Alpha Omega Alpha.
After an internship at Boston City Hospital, he enlisted in the Army, where he served in the Medical Corps from 1946 to 1948. In the army, he developed his interest in ophthalmology, leading him to his residency at the University of Iowa from 1948 to 1952. After an additional year at Henry Ford Hospital in Detroit as an associate eye surgeon, he settled in Port Huron, Michigan, where he opened the Port Huron Eye Clinic in 1953. He continued to live and practice in Port Huron for the next 40 years.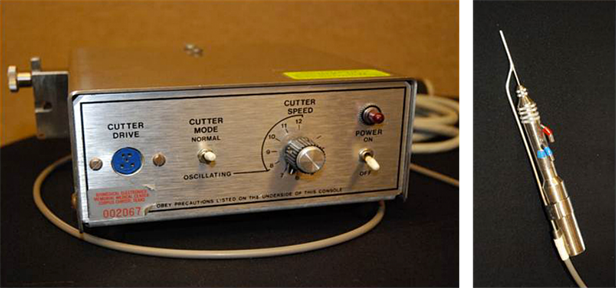 The Douvas Roto-Extractor displayed in "The History of Vitrectomy Exhibit" at the ASRS 25th Annual Meeting, Palm Springs, California, December 2007. Right: Cutter driving unit allows selection between rotational or oscillating motion and 12 speeds. Left: Handpiece with illumination sleeve, aspiration and infusion lines, and electric motor.
Dr. Douvas is best remembered and renowned for his contribution of the "Roto-Extractor." Early in his career, he developed a special interest in traumatic and congenital cataracts, which were much more difficult to remove with contemporary techniques of the time. Needling techniques were useful with soft lenses, but when the cataracts became fibrotic and scarred, they needed to be cut away in small pieces to avoid retinal damage.
His prototype extractor was first developed in 1968, in parallel with Machemer's VISC. Dr. Douvas published his experience in 1973, the year following Machemer's description of pars plana vitrectomy. His landmark article described the use and value of his new instrument for complex cataract extractions (Douvas N. Microsurgical pars plana lensectomy. Transact Am Acad Ophthal & Otolaryngol. 1973;77:792-800).
Dr. Douvas quickly recognized that his extractor had value in performing pars plana vitrectomies as well, and adapted his techniques to the management of diabetic retinopathy and vitreous hemorrhages. As vitreous surgery was in its infancy in the early 1970s, the Douvas Roto-Extractor rapidly gained worldwide interest for management of a variety of complex retinal detachments and disorders. Dr. Douvas was awarded multiple patents on the technology, and ultimately published over 44 papers on its use.
Although in private practice, he wore the badge of a true academician. Dr. Douvas participated in conferences all around the US and abroad, serving as guest faculty at 17 universities and frequently teaching doctors how to use his new machine.
He insisted that in order to purchase and use one of his Roto-Extractors, a surgeon must be personally taught by him how to use it. Doctors from coast to coast traveled each week to Port Huron to watch him operate and to build on his personal learning curve. By the end of the 1970s, more than 300 hospitals and universities obtained the Roto-Extractor, with their surgeons being taught by Dr. Douvas.
As with any pioneering technology, the Roto-Extractor had its limitations; vitreous often had the tendency to wind up the rotating blade shaft rather than being cut by it. This drawback and its large size, similar to Machemer's VISC, allowed it to be replaced in popularity by Connor O'Malley's "Ocutome" in the late 1970s and early 1980s. Nonetheless, the Douvas Roto-Extractor remains one of the great advances in the development of modern vitreous surgery.
Dr. Douvas was the ultimate teacher and recognized the value of filming and videotaping surgical techniques as a powerful method of training surgeons. He received the Barraquer Memorial Award for his contributions to ophthalmic education through cinematography. Other awards and included the Honor Award from the American Academy of Ophthalmology (AAO), the Culler Memorial Lecturer of Ohio State University, and the Wolfe Memorial Lecturer at the University of Iowa. He held memberships in the AAO, the American Society of Cataract and Refractive Surgery (ASCRS), the Retina Society, and Club Jules Gonin, among others.
Dr. Douvas was a true gentleman, welcoming visitors to his Port Huron clinic at any time. He was beloved by his patients not only for his talents, but also for his gentle demeanor. Most importantly, he was a strong family man.
"He had a very keen sense of humor," said Sue Freeborn of Seattle, Douvas' stepdaughter. "He could zero right in on something and would tell it to you like it was. It was his charm and his curse."
Dr. Douvas is survived by his loving wife, Arlene, along with a sister, 3 children, 4 stepchildren, 17 grandchildren, and 5 great-grandchildren. His family said that Dr. Douvas' health began to fail in the last 2 years. He used a wheelchair after a stroke earlier in 2011, but never once complained about his life.
Although never a member of the American Society of Retina Specialists, Dr. Douvas is still rightfully respected as one of our specialty's great figures and a true pioneer of retinal surgery. The ASRS museum collection is proud to own one of the original Douvas Roto-Extractors as well as many of his prototypes and early documents consigned to the ASRS a few years ago.
As a personal reflection, I had the joy of having dinner with Nick and his wife Arlene at the combined ASRS-Retina Society annual meeting in 2000. As we talked about the development of vitreous surgery and the importance of his Roto-Extractor in our profession's history, it was Nick's gentle humility that continues to stick in my mind.
He felt his contributions were only minimal to others. But he did remind me proudly of the day he beat Bob Dole in debate. The ASRS salutes the memory of this marvelous man and thanks him for helping us do what we do for our patients today.
A video on his life:
The video on his life is also available for video-streaming viewing and downloading at: Nicholas G. Douvas, MD and the Roto-Extractor from Kirk Packo, MD on Vimeo.
—Kirk H. Packo, MD
Past President, ASRS
---
Cremation has taken place, and interment occurred on December 30, 2011. In lieu of flowers, memorials may be given to Hospice of Michigan or Grace Episcopal Church.
Grace Episcopal Church
1213 6th Street
Port Huron, MI 48060
(810) ­985-9539
Updated: January 1, 2012