Society News — Member & Society News
Millions of Americans Have Age-Related Macular Degeneration (AMD)—Many Without Even Knowing It
For immediate release
Contacts:
Chris Jorgensen,
(312) 477-8869 | chris.jorgensen@asrs.org
During AMD/Low Vision Awareness Month this February, the American Society of Retina Specialists (ASRS) encourages every adult to schedule an eye examination to check for the earliest signs of this diseas.
CHICAGO, IL – January 31, 2013 – According to the National Eye Institute, an estimated 15 million Americans have some form of age-related macular degeneration (AMD), the leading cause of vision loss in adults age 60 and older. Although there is no cure for this disease, early detection and proper care can ensure good vision for years to come.
Macular degeneration happens during the normal aging process, as yellow deposits form under the retina—the light-sensitive layer of tissue at the back of the inner eye. These deposits kill light-sensitive cells and can result in blurred vision, loss of central vision, or distorted vision. AMD can affect everyday activities such as driving, reading, seeing colors, or even recognizing the face of a friend or family member. If the disease progresses far enough, it can result in blindness.
"Anyone can develop age-related macular degeneration, but it is especially prevalent in those with a family history of the disease, smokers, the obese, and people with high blood pressure. It is important to take this disease seriously and schedule a routine examination with an ophthalmologist," says ASRS member and retina specialist Sophie Bakri, MD, of the Mayo Clinic in Rochester, Minnesota. "You need to seek treatment before it's too late."
An ophthalmologist can detect the earliest signs of AMD and refer the individual to a retina specialist, who can begin a treatment plan to slow its progression, prolong vision, and make living with the disease very manageable.
No one should take their vision for granted. Visit www.SavingVision.org today to learn more about AMD and locate a retina specialist.
On the radio – Tune in live to Medical Edge on the Mayo Clinic News Network on Saturday, February 2 at 10:00 a.m. (EST) to hear Dr. Bakri talk about AMD.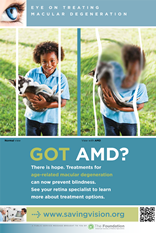 Get the poster – ASRS is providing free AMD awareness posters to senior centers, community centers, libraries, and other public places. Request a poster set at www.SavingVision.org while supplies last.
What is a retina specialist?
A retina specialist is a medical doctor who has specialized in ophthalmology (the structure, functions, and diseases of the eye) and has then sub-specialized in vitreoretinal medicine—diseases and surgery of the vitreous body of the eye (the clear, colorless jelly that fills the rear chamber of the eyeball) and the retina. These highly trained physicians treat a wide variety of eye conditions and diseases in both adults and children.
About ASRS
ASRS is the largest retinal organization in the world, representing more than 2400 members in all 50 US states, the District of Columbia, Puerto Rico, and more than 55 countries.

Its mission is to provide a collegial open forum for education, to advance the understanding and treatment of vitreoretinal diseases, and to enhance the ability of its members to provide the highest quality of patient care.
(Posted Jan. 31, 2013)