Greek Vitreo-Retinal Society (GVRS)
website: http://www.gvrs.gr/en/
Delegates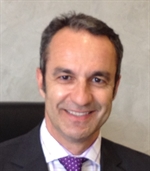 Stratos Gotzaridis, MBBS, MD
+30 210-721-2200 (Office)
+30 210-721-2201 (Fax)
66 Vas. Sophias Avenue
Athens, 115 28 , GR
stratosgotzaridis@yahoo.com
stratos@gotzaridis.gr
About

The Greek Vitreo Retinal Society (GVRS) was founded in 1995, has 370 members, and is headquartered in Athens, Greece. Many GVRS members are also members of ASRS.
Nearly 500 physicians attended GVRS's 8th Pan-Hellenic Vitreo Retinal Meeting, January 18-19 at the Athens Hilton Hotel. The GVRS Vitreo Retinal Meeting has become an international event, with invited lecturers and attendees from many countries.
GVRS's goals are to promote better understanding of vitreoretinal pathology and new advances in medical and surgical techniques. Seminars and courses are organized featuring the latest scientific developments. The Society also strives to promote teaching in vitreoretinal diseases and to consult with ophthalmologists and other professional societies internationally on current developments and treatment options.
One of the major problems that Greek vitreoretinal physicians face is the financial crisis in Europe—and particularly in Greece. Offering patients cost-effective medications and surgery is now more difficult because the country has 2 systems: a private-practice treatment model, and a national health system which is free, but less effective and flexible than private practice. These days, more Greeks are using the national health system; the financial crisis has led to cuts in this system in an attempt to make it as cost effective as private-sector health care.
The financial crisis in Greece has also made it more difficult for retina specialists to follow the new innovations in retina. One of GVRS's responsibilities is to inform members on scientific advancements in the field.
For more information about GVRS, visit www.gvrs.gr.