ECS Co-Chairs
Early Career Section Co-Chairs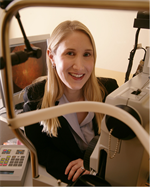 Lisa C. Olmos de Koo, MD, MBA

Lisa C. Olmos de Koo, MD, MBA recently joined the faculty of the University of Washington as Associate Professor of Ophthalmology and Chief of the Retina Division. Previously, she served as an Assistant Professor at the USC Roski Eye Institute, University of Southern California's Keck School of Medicine in Los Angeles, CA. During her time in Los Angeles, Dr. Olmos was voted one of Pasadena's "Top Doctors" in from 2012 - 2016, and she was the recipient of a "Rising Star" award from Los Angeles Magazine in 2013. She was also the 2016 winner of the Vit-Buckle Society's award for "Best Female Surgeon."

Dr. Olmos received her bachelor's degree in chemistry cum laude from Harvard University, an MBA from Rice University, and her medical degree from Baylor College of Medicine in Houston, TX, where she was the recipient of the American Medical Women's Association scholastic achievement award. Dr. Olmos completed her internship at Georgetown University and her ophthalmology residency and vitreoretinal fellowship at the world-renowned Bascom Palmer Eye Institute at the University of Miami. She was then selected to be Chief Resident and Co-Director of Ocular Trauma at Bascom Palmer.

Dr. Olmos' research interests include artificial vision and retinal prostheses, novel therapies for macular degeneration and inherited retinal degenerations, treatment strategies for diabetic retinopathy, and retinal imaging modalities. She is one of the few implanting surgeons worldwide for the Argus II retinal prosthesis, having previously served as Primary Investigator for the Argus II device clinical trials at USC, culminating in the FDA approval of the device in 2013. She has a special interest in medical education, currently serving as the Retina Fellowship Program Director at the University of Washington. She lives in the Seattle area with her husband and two children.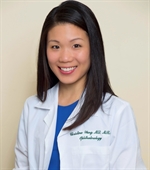 Christina Y. Weng, MD, MBA
Christina Y. Weng, MD, MBA is an Assistant Professor of Ophthalmology and the Vitreoretinal Diseases & Surgery Fellowship Program Director at the Baylor College of Medicine in Houston, Texas. She has a faculty appointment at the Level 1 trauma center, Ben Taub General Hospital. Dr. Weng was the recipient of the Dan B. Jones Teaching Award in 2016.
Dr. Weng graduated cum laude from Northwestern University and then went on to medical school at the University of Michigan where she was elected to the Alpha Omega Alpha (AOA) Medical Society. While in Ann Arbor, she pursued an MBA degree from the University of Michigan-Ross School of Business and graduated with high distinction. Dr. Weng completed her ophthalmology residency at the Wilmer Eye Institute-Johns Hopkins University and surgical retina fellowship at the Bascom Palmer Eye Institute-University of Miami.
Dr. Weng is involved with multiple clinical trials; these include the DRCR.net diabetic retinopathy trials and the AGTC Phase 1/2 intravitreal gene therapy study for X-linked retinoschisis. She also leads numerous research studies in her areas of interest: clinical/surgical outcomes, medical economics, healthcare quality metrics, and telemedicine.