ECS Co-Chairs
Early Career Section Co-Chairs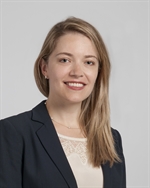 Aleksandra V. Rachitskaya, MD
Aleksandra V. Rachitskaya is an Assistant Professor in the Department of Ophthalmology at Case Western Reserve University's Cleveland Clinic Lerner College of Medicine and a member of the vitreoretinal faculty at Cleveland Clinic's Cole Eye Institute. She specializes in the diagnosis and management of medical and surgical retinal diseases. Prior to her appointment at the Cleveland Clinic in 2014, Dr. Rachitskaya served on faculty of the Bascom Palmer Eye Institute in Miami, Florida, as the Chief Resident and Director of Ocular Trauma.
An active researcher, Dr. Rachitskaya is involved in numerous clinical trials, including studies on diabetic retinopathy and age-related macular degeneration. In June of 2015, Dr. Rachitskaya and her colleagues at the Cole Eye Institute completed the first successful Argus II implant in the state of Ohio. Dr. Rachitskaya regularly publishes on her research and she has given numerous national and international presentations on her work. She is an active member of the American Society of Retina Specialists, the American Academy of Ophthalmology, the Association for Research in Vision and Ophthalmology, the Retina Society, the VBS Society, the Ohio Ophthalmological Society, and the Cleveland Ophthalmological Society.
Dr. Rachitskaya completed an internship in internal medicine at the George Washington University in Washington, D.C., and earned her medical degree at the Case Western Reserve University School of Medicine in Cleveland, Ohio. During medical school, she spent a year at the National Eye Institute as a National Institutes of Health-Howard Hughes Institute Research Fellow and earned an induction into the Alpha Omega Alpha Honor Society. In 2016 Dr. Rachitskaya was the recipient of the prestigious Case Western Reserve University Young Alumni Award.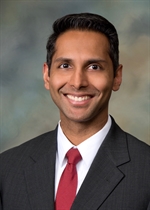 Ankoor R. Shah, MD

Ankoor R. Shah, MD is a practicing vitreoretinal surgeon with Retina Consultants of Houston, an Assistant Professor of Clinical Ophthalmology at the Houston Institute for Academic Medicine, and a Clinical Assistant Professor of Ophthalmology of Weill Cornell Medical College.
Dr. Shah graduated summa cum laude with a dual degree in healthcare management and biology from the Wharton School and the College of Arts and Sciences at the University of Pennsylvania, respectively. He earned his medical degree from Columbia University College of Physicians and Surgeons, where he focused his research efforts on age-related macular degeneration and earned the opportunity to complete the prestigious Doris Duke Clinical Research Fellowship. He performed his residency in ophthalmology at the University of Pennsylvania Scheie Eye Institute, where he was awarded the Medical Student Teaching Award for his dedication and excellence in teaching. He went on to complete an adult and pediatric surgical vitreoretinal fellowship at the renowned William Beaumont Hospital in Royal Oak, Michigan. Over his career, Dr. Shah has received numerous prestigious honors, most notably the Rose Award, Dean's Day Research Award, and Behrens Memorial Prize in Ophthalmology.
Dr. Shah has authored over 80 peer-reviewed scientific papers, book chapters, and presentations at national meetings. His research interests include novel therapies for age-related macular degeneration, telemedicine in diabetic retinopathy, and scleral fixation techniques for intraocular lenses. He has been a principal investigator or sub-investigator on over 70 ongoing clinical trials. Dr. Shah has also taken an active interest in practice management and coding issues as a member of the Practice Management Committee of the American Society of Retina Specialists (ASRS) and the ASRS Business of Retina Planning Committee. He is co-content director of the Retinal Coding 2018 book published by the AAO. Currently he is the ASRS Current Procedural Terminology (CPT) Advisor advocating for and designing codes for retina specialists at the American Medical Association CPT Meetings.