ECS Co-Chairs
Early Career Section Co-Chairs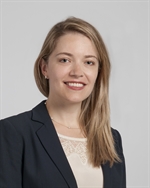 Aleksandra V. Rachitskaya, MD
Aleksandra V. Rachitskaya is an Assistant Professor in the Department of Ophthalmology at Case Western Reserve University's Cleveland Clinic Lerner College of Medicine and a member of the vitreoretinal faculty at Cleveland Clinic's Cole Eye Institute. She specializes in the diagnosis and management of medical and surgical retinal diseases. Prior to her appointment at the Cleveland Clinic in 2014, Dr. Rachitskaya served on faculty of the Bascom Palmer Eye Institute in Miami, Florida, as the Chief Resident and Director of Ocular Trauma.
An active researcher, Dr. Rachitskaya is involved in numerous clinical trials, including studies on diabetic retinopathy and age-related macular degeneration. In June of 2015, Dr. Rachitskaya and her colleagues at the Cole Eye Institute completed the first successful Argus II implant in the state of Ohio. Dr. Rachitskaya regularly publishes on her research and she has given numerous national and international presentations on her work. She is an active member of the American Society of Retina Specialists, the American Academy of Ophthalmology, the Association for Research in Vision and Ophthalmology, the Retina Society, the VBS Society, the Ohio Ophthalmological Society, and the Cleveland Ophthalmological Society.
Dr. Rachitskaya completed an internship in internal medicine at the George Washington University in Washington, D.C., and earned her medical degree at the Case Western Reserve University School of Medicine in Cleveland, Ohio. During medical school, she spent a year at the National Eye Institute as a National Institutes of Health-Howard Hughes Institute Research Fellow and earned an induction into the Alpha Omega Alpha Honor Society. In 2016 Dr. Rachitskaya was the recipient of the prestigious Case Western Reserve University Young Alumni Award.








Yoshihiro Yonekawa, MD

Yoshihiro Yonekawa, MD, is an adult and pediatric vitreoretinal surgeon at Wills Eye Hospital / Mid Atlantic Retina, and Assistant Professor of Ophthalmology at Sidney Kimmel Medical College of Thomas Jefferson University. He received his MD with honors from Weill Cornell Medical College, where he was recognized with the Edward Norton Award in Ophthalmology and grants from Fight for Sight and the National Eye Institute. He completed his ophthalmology residency at Harvard Medical School, and subsequently underwent fellowship training at William Beaumont Hospital / Associated Retinal Consultants, where he received national awards including those from the Heed Ophthalmic Foundation, Ronald G. Michels Foundation, and the Retina Society.
He serves as the co-chair of the American Society of Retina Specialists (ASRS) Early Career Section, as well as on the ASRS Fellowship Directors Committee, and the Executive Committee for the Vit Buckle Society, where he is also the Vice President for Academic Programing. Dr. Yonekawa is an active member of the Retina Society, Macula Society, American Academy of Ophthalmology (AAO), Vail Vitrectomy, and the Association of Pediatric Retina Specialists. He has received numerous recognitions, including the ASRS Senior Honor Award, AAO Achievement Award, and The Ophthalmologist Power List of Rising Stars.
Dr. Yonekawa has contributed over 250 original papers, editorials, and book chapters to the field. He serves as an assistant editor for RETINA, deputy editor for Journal of VitreoRetinal Diseases, and section editor for Ophthalmic Surgery Lasers and Imaging Retina, and Review of Ophthalmology. He is on the editorial board for the Journal of Association for Pediatric Ophthalmology and Strabismus, is co-editor of Retina Roundup and the Vit Buckle Academy, and section editor for several textbooks, including Albert and Jakobiec. He maintains a visiting professorship with Kyorin University in Japan.