Preferences and Trends (PAT) Survey
No PAT Survey
There is no PAT Survey on record for your group. Please try again at a later time.
Thanks to All Who Took the 2018 PAT Survey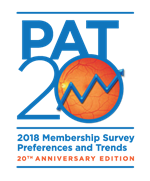 ASRS Preferences and Trends (PAT) Survey Editor Thomas W. Stone, MD, is grateful to the 1034 ASRS members who participated in the 20th Annual PAT Survey. Thanks to you, we have exceeded 1000 responses for the third year in a row.
Since 1999, the PAT Survey has provided a yearly snapshot of our members' preferences on a wide range of medical, surgical, and socioeconomic topics. And because the survey repeats key questions from year to year, we also track significant trends in retina practice patterns.
Final PAT Survey results will be released at the ASRS Annual Meeting
Thomas Stone, MD, will reveal the 2018 PAT Survey results at the ASRS 36th Annual Meeting in Vancouver, BC, Canada, July 20-25, including a comparison of US and international ASRS members' responses. He will also present multiyear trending data.
Final survey results and trending data will also be posted on this webpage after Dr. Stone's presentation.
A PAT Survey supplement—with complete 2018 survey results and trending data, and an expert roundtable discussion—will also be mailed with the fall Retina Times.