Advocacy & Practice Updates — Advocacy & Practice
As Compounding Obstacles Increase, ASRS Voices Concerns and Additional Recommendations to New FDA Compounding Chief
Recently released draft guidance documents on compounding took center stage at Friday's FDA listening session on Drug Quality and Security Act (DQSA) implementation, where Federal Affairs Chair, Geoff Emerson, MD, PhD, outlined ASRS's concerns and recommendations to new DQSA lead, Julie Dohm and other FDA staff.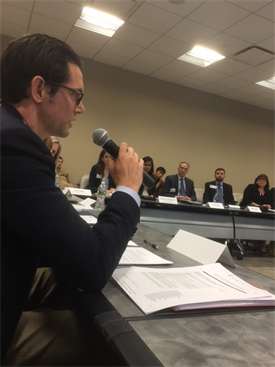 Key ASRS points included:
Assuring access to drugs without a prescription for in-office emergency use: ASRS called on FDA to allow office use of certain compounded drug products derived without patient-specific prescriptions from 503 A facilities as needed for the for emergency treatment of conditions, such as fungal endophthalmitis, when such drugs cannot be obtained from 503B facilities.
Eliminating the one-mile restriction: ASRS urged the FDA to eliminate language in the draft guidance that would place a 1-mile geographic restriction on where hospital compounding pharmacies can distribute compounded drug products without first receiving a patient-specific prescription.
Again urging use of science to determine BUDS to preserve patient access to biologics: ASRS has advocated strongly against the FDA's overly restrictive proposed beyond-use dates (BUDs) that would put sight-saving bevacizumab out of reach for physicians and patients. Dr. Emerson cited new research in a growing body of scientific evidence supporting the safety of BUDs longer than those proposed in the current guidance. ASRS again urged that final FDA guidance governing compounding should allow for scientific evidence and product-specific testing to be used in the determination of maximum BUDs for repackaging biologics.
ASRS, AMA, ASCRS and AAO were among a broad spectrum of medical specialties that weighed in during the session. "Other specialties besides ophthalmology are starting to understand how they are affected by compounding restrictions," said Dr. Emerson. "I hope that FDA will listen more now that dermatologists, allergists, neurologists, urologists, obstetricians and others are complaining loudly too."
Ms. Dohm reported that the FDA will host another listening session this week for patient groups, hospital/insurers, and outsourcing facilities.
Read Dr. Emerson's Comments to FDA
(Posted June 8, 2016)