Advocacy & Practice Updates — Advocacy & Practice
ASRS in DC to Fight for Comprehensive Network Adequacy
December 23, 2014 -- Back to Retina Practice News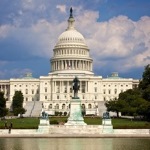 Insurance plans must appropriately account for subspecialties
Throughout December ASRS has been in Washington, DC meeting with members of Congress with the goal of ensuring in-network access to subspecialties and raising awareness of broader network adequacy issues. In conjunction with our partners in the Network Adequacy Workgroup, we met with legislators on both sides of the political aisle, including members of the Republican Doctors Caucus and Democrats with a proven track record of championing physician and patient rights.
Your ASRS advocacy and practice team in Washington met with Representatives Phil Roe, R-Tenn.; Joe Heck, R-Nev.; and Brian Prince, R-Ga., as well as with Sen. Sherrod Brown, D-Ohio, to discuss the loopholes that allow for narrow payer networks. The primary issue discussed has been Medicare Advantage (MA) plans' ability to drop providers without justification, leaving your patients without access to the urgently needed care you provide.
Earlier this year, Senator Brown, Sen. Richard Blumenthal, D-Conn., and Rep. Rosa DeLauro, D-Conn., proposed MA participant bill of rights legislation (H.R. 4998 and S. 2552) aimed at eliminating MA plans' ability to indiscriminately drop you from their networks. While we have reengaged with Sherrod Brown in hope of reviving the bill in 2015, we are also monitoring for the Government Accountability Office to release its assessment, which Representative DeLauro requested in March, of the Centers for Medicare & Medicaid Services' (CMS) oversight of UnitedHealthcare's tactics for managing their network and contracts with physicians.

Network adequacy issues prompt NAIC to action
The National Association of Insurance Commissioners (NAIC) has proposed the Network Adequacy Model Act, indicating the traction that network adequacy issues have gained over the last year. The Act outlines requirements for health insurance plans that would safeguard your contracts and create a fairer playing field between payers and providers.
The NAIC seeks to create criteria that will protect specialties by requiring plans ensure they have contracts with a comprehensive list of providers that can be terminated only under specific circumstances. The draft language also would create parameters for tiered networks to help protect patient access to providers under those types of benefit designs.
The ASRS and its specialty society partners have been offered a seat at the table and an opportunity to provide recommendations on the language in the Act. We are pushing for stronger wording that would more clearly include and protect subspecialties. For example, we are recommending that the Act require payers to analyze the previous year's claims and guarantee that payers maintain contracts with subspecialty providers from year to year.
We are also urging the NAIC to include language that would require payers to compare cost efficiency and quality of like-providers at the subspecialty level. We believe that pushing for provisions like this in the Act will help protect your contracts with payers and guarantee your patients continuity of care.
Our comments on the NAIC Network Adequacy Model Act are due in January; we will follow up with more details in the weeks ahead.