Women in Retina Section Sponsors Luncheon, Case Conference
Eighty women attended the ASRS Women in Retina (WinR) Section luncheon at the ASRS Annual Meeting. Guest speaker Marsheila DeVan, a lifestyle and speaking coach, advised attendees on techniques to engage a conference audience. After her presentation, she invited WinR members to participate in group speaking activities and offered recommendations on how to improve their technique.
That evening, 35 women participated in the WinR Case Conference moderated by Alice Lyon, MD, and Mina Chung, MD. Nine participants presented cases to an involved audience, answered follow-up questions about diagnostic options, and discussed treatment results.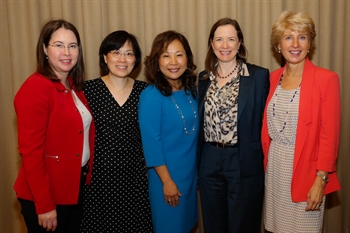 WinR Board members Alice Lyon, MD; Jennifer Lim, MD; Judy Kim, MD; Pauline Merrill, MD; and ASRS Past-President Julia Haller, MD. Not pictured: Nancy Holekamp, MD