Winter Wonderlands Greet Women in Retina
Spring 2015
Some of our finest winter snowstorms greeted the Women in Retina Boston Tea Party and the Winter Brunch in Chicago.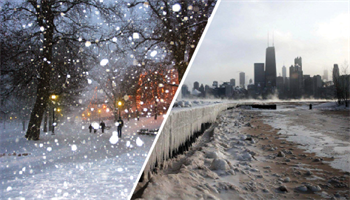 Boston's Ivana Kim, MD, and Caroline Baumal, MD, organized and orchestrated the January 9 WinR Boston Tea Party, which brought together more than 50 women in retina from across the country for a vibrant evening of conversation and networking at The Harvard Club.
Insightful questions were posed to Joan Miller, MD; Anita Agarwal, MD; and Carol Shields, MD, who shared their personal and professional experiences in their practices—and lives—as women in retina.
Joan Miller, MD, speaks at the WinR Boston Tea Party.
Personal insights and genuine passion for teaching, research, surgery, and their dynamic lives were inspirational to all who attended. The choices we have, and the excitement we live and breathe in our daily professional and family lives were the talk of the evening.
With the backdrop of a beautiful Boston snowstorm, everyone in attendance enjoyed the spirited conversation and networking.Our love affair with snowstorms continued at the WinR Winter Brunch at Shaw's Crab House in Chicago. WinR Chair Alice Lyon, MD, Chair-Elect Jennifer Lim, MD, and Chair Emeritus Pauline Merrill, MD, along with Chicago-area WinR mentor colleagues, met with a number of WinR fellows in training.

Winter Chicago WinR brunch attendees. Front row: Pauline Merrill, MD; Alice Lyon, MD; Jennifer Lim, MD; Wei Wang, MD, PhD. Back row: Dimitra Skondra, MD; Ashleigh Levison, MD; Sheila Garcia Santana, MD; Archana Seethala, MD; Rukhsana Mirza, MD; Jessica Randolph, MD; Kristen Nwanyanwu, MD, MBA; Sahana Vyas, MD; Manjot Gill, MD; Randee Miller, MD.
Networking was in full force at this intimate gathering, allowing in-depth discussion on a variety of topics. Mentors and fellows engaged in candid conversation ranging from complex surgery and major life decisions, to managing clinic flow and navigating the professional landscape, while enjoying a delicious crab leg and ceviche brunch.
The WinR Boston Tea Party and the WinR Winter Brunch were generously funded through grants from Genentech, Inc, and Regeneron Pharmaceuticals, Inc.
FINANCIAL DISCLOSURES
Dr. Lyon – None.