WinR Members Enjoy Mentoring Brunch in Chicago
Women in Retina
Spring 2017
ASRS's Women in Retina (WinR) hosted a mentoring brunch on January 29 at Shaw's Crab House for female fellows attending the Retina Fellows' Forum. Co-chairs Dimitra Skondra, MD, and Camille Palma, MD, welcomed the attendees and shared their viewpoints on the value of WinR.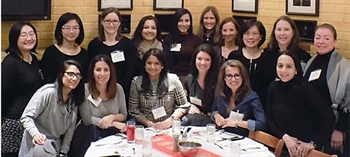 Front row: Vaidehi Dedania, MD; Safa Rahmani, MD; Ruchita Amin, MD; WinR Brunch Co-chairs Camille Palma, MD, and Dimitra Skondra, MD, PhD; Rukhsana Mirza, MD. Back row: Yang Zhang, MD; Xi Chen, MD, PhD; WinR Fellow-in-Training Chair Marina Gilca, MD; Komal Joshi, MD; Ria Desai, MD; Elizabeth Atchison, MD; Amy Schefler, MD; WinR Chair Jennifer Lim, MD: WinR Past Chair Alice Lyon, MD; Susan Fowell, MD.
Fellows mingled with WinR retina mentors, who provided insight into work-life balance, offered career tips, and shared personal stories about life as a woman in retina. The event provided a great venue for discussion of topics of interest and importance to mentees and mentors alike.
Camille and Dimitra presented recent initiatives, such as the creation of the WinR What's App (by Zélia Corrêa, MD, PhD) and the WinR Facebook page (by Camille Palma). Mentors and mentees were encouraged to participate in these newly created WinR social media platforms.
WinR is grateful for funding by Genentech, Inc, and Regeneron Pharmaceuticals, Inc.
For details on WinR's May 7 Association for Research in Vision and Ophthalmology (ARVO) luncheon, visit www.asrs.org/WinR.
FINANCIAL DISCLOSURES
Dr. Lim – ALCON LABORATORIES, INC: Consultant, Honoraria; ALIMERA SCIENCES: Investigator, Grants; ALLERGAN, INC: Investigator, Grants; GENENTECH, INC: Advisory Board, Investigator, Speaker, Grants, Honoraria; REGENERON PHARMACEUTICALS, INC: Investigator, Grants; SANTEN INC: Consultant, Honoraria.