Mentoring Fellows at AAO Retina Subspecialty Day
Women in Retina
Winter 2016
The American Academy of Ophthalmology (AAO) Retina Subspecialty Day, although an exciting meeting, can be overwhelming for any retina specialist. After all, it is 2 solid days of the latest and greatest information encompassing our wonderful specialty. But Subspecialty Day can be even more daunting for first- or second-year retina fellows.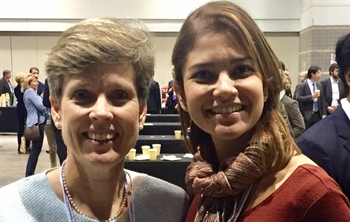 WinR Vice Chair Nancy Holekamp, MD, and her mentee, Andrea Elizabeth Arriola-Lopez, MD, MSc, enjoy AAO Retina Subspecialty Day in Chicago.
For this reason, Women in Retina (WinR) created a mentoring program, now in its fourth year of matching senior, practicing women retina specialists in academic or private practice with first- and second-year women retina fellows from all over the world. This year in Chicago, WinR matched 12 mentors with mentees, and the pairs experienced AAO Subspecialty Day's "Winds of Innovation" together.
The experience began with a breakfast for all mentors and mentees; then the pairs branched out for the next 2 days, sharing insights on the presentations, comparing surgical techniques. Mentors also introduced their retina fellows to esteemed colleagues. The 2 days included lunches, impromptu trips to the exhibit hall to look at new surgical instruments, and simply getting to know each other at the coffee breaks.
One mentee wrote of her experience, "Thank you for sharing all of your experience with me. It was amazing to meet you. I am going to work harder in order to become a member of all the retina societies." A mentor wrote, "I feel very good about the future of our profession after meeting these smart and talented young women."
Of course, the WinR Mentoring Program would not be possible without the generous support of industry sponsors Regeneron Pharmaceuticals, Inc; Genentech, Inc; and Allergan, Inc. We encourage more women retina specialists to volunteer to be mentors.
Future mentees, please watch for an announcement of the application process for 2017 and for other WinR activities.
FINANCIAL DISCLOSURES
Dr. Lim – ALCON LABORATORIES, INC: Consultant, Honoraria; GENENTECH, INC: Advisory Board, Speaker, Honoraria; HOSPIRA/PFIZER: Consultant, Honoraria; ICON BIOSCIENCE INC: Consultant, Honoraria; LUMENIS LTD: Consultant, Honoraria; QLT, INC: Advisory Board, Other, Unrestricted Research Grant, Honoraria; REGENERON PHARMACEUTICALS, INC: Investigator, Speaker, Grants, Honoraria; SANTEN INC: Advisory Board, Consultant, Honoraria.