ECS Member Spotlight: Ankoor R. Shah, MD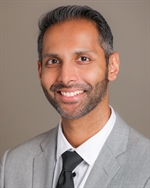 Early Career Section member Ankoor R. Shah, MD, is a practicing vitreoretinal surgeon with Retina Consultants of Texas, an assistant professor of Clinical Ophthalmology at the Houston Institute for Academic Medicine, and a clinical assistant professor of Ophthalmology at Weill Cornell Medical College. He has been a member of the ASRS Practice Management Committee, since 2016, where he has worked to advocate on behalf of retina on coding and billing issues. Building upon that experience, he also recently served for two years as the ASRS Current Procedural Terminology (CPT) Advisor advocating for and designing codes for retina specialists at the American Medical Association CPT meetings. He is now one of two Relative Value Scale (RVS) Update Committee (RUC) for the American Academy of Ophthalmology.
In addition to his work in practice management, Dr. Shah also served on the ASRS Board of Directors as an Early Career Section co-chair from 2018-2020. Along with his Co-Chair, Aleksandra Rachitskaya, MD, he launched the weekly Fellows' Case Conference, which later evolved into the monthly ASRS Grand Rounds for fellow-in-training members. He continues to remain engaged in the Society and specialty through various teaching activities, most recently co-hosting a webinar on 2021 E/M coding updates, helping educate members about the most significant changes in E/M coding and documentation in a quarter century.
Former ASRS President Tarek S. Hassan, MD, had kind words to say about Dr. Shah: "Ankoor is a wonderful young man, blessed with ethics, character, and kindness (as well as great skill and intelligence). His desire to be his best — as a physician and person — has not changed from the moment I met him and I deeply respect this about him. When he started fellowship, he told me that he wanted to be the best possible vitreoretinal specialist — and he worked hard to accomplish just that — and as he neared the end of his fellowship with me, he told me that in addition to striving for a career as the best possible retina specialist, he also wanted to do more to help the entirety of our field In his early career in Houston, Ankoor has humbly excelled caring for his patients in one of the premier retina practices in the country while also thrusting himself to the forefront of dealing with some important and highly complex socioeconomic and practice management concerns of our field. His already accomplished career helping save vision, while at the same time helping all of us who practice, is just beginning — I am very proud of him and can't wait to see what he will do next."
Interested in becoming involved in the ASRS? Email caroline.bozell@asrs.org with your areas of interest.