ASRS Women in Retina Section Debuts Mentoring Program
The ASRS Women in Retina (WinR) Section is beginning a 2013 pilot program, Our Mission Is Mentoring. Twenty-one members attended WinR's first mentoring event in Chicago on January 27, with support from Genentech and Regeneron Pharmaceuticals, Inc.
The WinR mentoring brunch invited second-year women retina fellows from around the US to learn about responsible, ethical, and productive ways to engage with industry throughout their careers. WinR Steering Committee Chair Pauline Merrill, MD, and committee members Drs.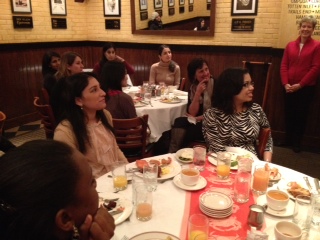 Second-year fellows listen to presentations at the January 27 WinR event in Chicago.
Jenny Lim, Alice Lyon, and Nancy Holekamp shared their experiences in dealing with both the commercial and the scientific side of industry.
The common theme was balance. Pauline Merrill, MD, compared industry interactions working in both an academic institution and a private practice. Drs. Jenny Lim and Alice Lyon described setting boundaries for sales reps in their patient clinics while participating in the large clinical trials that have brought new treatments to our patients.
Nancy Holekamp, MD, acknowledged how being a consultant or speaker for a pharmaceutical company creates potential conflicts of interest that must be disclosed at meetings and reconciled with patient care. The brunch meeting presented practical new information for fellows whose only prior contact with industry may have been a free lunch or logo pens. The insights shared at the brunch will help prepare our retina fellows, who will soon enter practice, for their interactions with industry representatives.
The next WinR Our Mission Is Mentoring event will be on Sunday, May 5 at ARVO 2013 in Seattle. A scientific session is planned to allow women retina fellows and young retina faculty to present their scientific work in a friendly, supportive forum.