ECS Member Spotlight: Victor M. Villegas, MD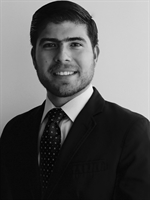 Early Career Section member Victor M. Villegas, MD, is an associate professor and the residency program director at the University of Puerto Rico Department of Ophthalmology. He also holds academic affiliations with Bascom Palmer Eye Institute and Ponce Health Sciences University School of Medicine Department of Surgery. In addition, he is the founding director of a private ocular oncology and vitreoretinal practice in San Juan, Puerto Rico.
Dr. Villegas has been a member of ASRS since 2013, and has worked to promote academic development among young vitreoretinal surgeons. During fellowship training, he was one of the first fellows to pilot the ASRS Fellows' Activity Log. Currently, he is a contributor for the ASRS Retina Atlas and serves as a reviewer for the Journal of VitreoRetinal Diseases (JVRD), where is also a frequent author earning him a Distinguished Contributor Award.
"It is truly a joy to be involved in the JVRD. The journal is a trusted resource in the retina community and features some of the highest-quality research and clinical information in the field," says Dr. Villegas. "JVRD is always looking for members to get involved and there are always opportunities for authors and peer reviewers to do their part. ECS members are the future of the specialty and there has never been a better time to volunteer and continue advancing our field."
Dr. Villegas has received accolades for his contributions to the journal.
"On behalf of the Editorial Board of JVRD, I am honored to salute Dr. Victor Villegas as the ASRS Early Career Section member who has contributed his impressive scholarship so mightily and so generously to JVRD," says JVRD Editor-in-Chief Donald J. D'Amico, MD
In addition to his work with the ASRS, Dr. Villegas is also the current President-Elect for the Puerto Rico Society of Ophthalmology where he has been involved in efforts to improve education, especially about rare diseases like retinoblastoma and choroidal melanoma, and enhance medical access for the underserved communities in Puerto Rico.
ASRS Immediate Past President Timothy G. Murray, MD, MBA believes that, "Dr. Victor Villegas embodies much of what makes a superb vitreoretinal specialist and ocular oncologist. Throughout his early career, Victor has remained focused on defining and disseminating best care practices for the management of life threatening and vision threatening retinal disease. Victor has approached this passion by writing, and publishing, prolifically. Early on, Victor appreciated the uniqueness of JVRD in broadly reaching the retina specialty community and his involvement has been invaluable. Victor is a consummate young professional, espousing the ideals of a clinician/scientist/educator, while giving back to his patients, community, and specialty."
Interested in getting involved with JVRD?
Learn how to qualify for a Distinguished Contributor Award!
Click here to submit your next paper to JVRD.
Click here to learn more about becoming a JVRD peer reviewer.