Doheny Eye Institute's Stephen J. Ryan, MD, Dies
Tuesday, April 30, 2013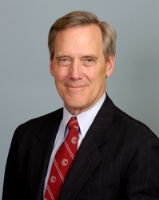 President of the Doheny Eye Institute, Distinguished Grace and Emery Beardsley Professor of Ophthalmology at USC
With deep sadness, we inform you that Stephen J. Ryan, MD, passed away on Monday, April 29. The former USC Medical School dean died in his home, surrounded by his loving family, who said he fought valiantly against a disease that progressed far too rapidly.
"Steve was the quintessential academician: an outstanding leader, superb clinician, dedicated teacher and gifted researcher, spending his entire career at the Doheny Eye Institute and University of Southern California," says ASRS President John T. Thompson, MD. "He will be missed by all whose lives he touched."
"Steve Ryan was not only a giant in retina, but was a leader in ophthalmology and medicine," says his colleague Mark S. Humayun, MD, PhD, associate director of research at the Doheny Eye Institute. "Many of us will remember Steve as the editor of Retina, considered by most as the leading textbook of retina, but Steve accomplished much more.
"He played significant roles in many important organizations such as the American Academy of Ophthalmology and the National Academies' Institute of Medicine. He was the founder of the Doheny Eye Institute, and through his hard work made it one of the top 10 ophthalmology programs in the US.
"On a personal note, Steve Ryan had an instrumental role in recruiting me to Doheny and I had the great privilege of working with him for the past 12 years," Mark Humayun adds. "These years were the most productive of my life and I can say without hesitation that without Steve's support, I would not have been able to achieve nearly as much as I did. With the passing of Steve Ryan, ophthalmology has lost a great leader and many of us a close friend."
Dr. Ryan will be laid to rest in Providence, Rhode Island. His family will announce details separately about funeral services to be held in Los Angeles. A memorial service (scientific meeting) and a celebration of life (gathering of friends) will be scheduled at later dates.
Stephen Ryan is survived by his wife, Anne Ryan, daughter Patricia Anne, and brothers Richard, John, and Robert, and their immediate families.
« All News »