Thanks a Million
Celebrating 1 Million Retina Image Bank Pageviews With a Free Gift for You!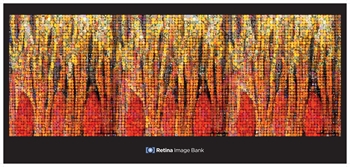 The Retina Image Bank has surpassed 1 million page views since its inception in August 2012. Thank you to all ASRS members, Retina Image Bank members and others who have contributed and used this innovative multimedia platform over the past five years. The site would not be where it is today without you.


As a token of our appreciation, we have created a poster containing the more than 22,000 images on the ASRS Retina Image Bank website that is
free to download
. This detailed photomosaic features the histopathology of the photoreceptor layer, where sight begins. You will also
download a file listing the contributors to the RIB
that can be mounted on foamboard as a wall plate to describe this one-of-a-kind work. Once downloaded, the poster can be professionally printed in any of the following sizes:
15 inches wide x 7 inches tall
30 inches wide x 14 inches tall
60 inches wide x 28 inches tall


We hope you will consider printing and framing this poster as a beautiful and unique piece of art for your office.
Thank you again for your commitment to the ASRS Retina Image Bank and I hope you will continue contributing your best images and using the site for all of your educational purposes. If at any time you need any assistance while on the Image Bank, please do not hesitate to contact myself at
Suber.Huang@gmail.com
or Retina Image Bank Director, Caroline Bozell at
caroline.bozell@asrs.org
.