Spotlight Case: You'll Shoot Your Eye Out, Kid!
William J. Carroll, MD

Emory Eye Center

Philip W. Laird, MD

Emory Eye Center

Jiong Yan, MD

Emory Eye Center
An 11-year-old boy was shot in the right eye with a Copperhead BB. He presented to the emergency room on the day of the injury and was found to have 20/200 visual acuity in the injured eye with a relative afferent pupillary defect. Intraocular pressure was 18, there was mild anterior chamber cell, a clear crystalline lens, inferior vitreous hemorrhage, a pink optic disc, globular vitreous hemorrhage over the posterior pole, Berlin's edema, and a large area of inferonasal sclopetaria. B-scan ultrasonography (Figure 2) showed a hyper-reflective foreign body adjacent to the sclera in the inferonasal orbit.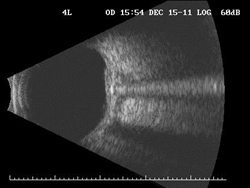 Figure 2
Computed tomography (Figure 3) revealed a single metallic foreign body adjacent to the globe consistent with a BB. No evidence of a penetrating injury was noted. Removal of the foreign body was deferred by the oculoplastics service.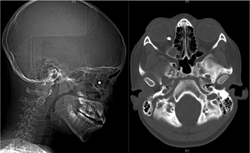 Figure 3.
One month after the injury, visual acuity had improved to 20/100. Dilated fundus exam showed the findings in figure 1.
What's your diagnosis?
The exam demonstrated resolution of commotio retinae and improvement of the sclopetaria, but development of a dense epiretinal membrane and a pseudohole in the macula (Figure 1). Optical coherence tomography (OCT) demonstrated significant retinal thickening, distortion of foveal architecture, and disruption of outer retinal layers (Figure 4).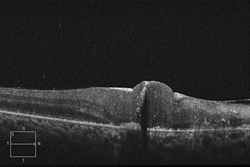 Figure 4
Due to the recent trauma history and his young age, we deferred immediate surgical intervention and opted for close observation. Over the following year, his visual acuity and macular architecture continued to improve spontaneously. Seven months after the injury, his visual acuity was 20/100. The epiretinal membrane had improved significantly on dilated fundus exam, and the OCT demonstrated a significantly thinner epiretinal membrane partially separated from the surface of the retina, a return of the foveal depression, and outer retinal atrophy (Figures 5 and 6), which was attributed to macular RPE/photoreceptor loss due to traumatic injury.
| | |
| --- | --- |
| | |
| Figure 5 | Figure 6 |
By thirteen months after the injury, visual acuity had improved further to 20/60, with final visual acuity being limited by subfoveal RPE atrophy. Consolidation of the initial epiretinal membrane had left a thin residual ring of fibrotic tissue inferonasal to the fovea (Figure 7). Repeat OCT revealed that the epiretinal membrane had become thinner and was further separated from the surface of the retina (Figure 8).
| | |
| --- | --- |
| | |
| Figure 7 | Figure 8 |
Discussion
Epiretinal membranes most often form in pediatric patients as a secondary event related to trauma, uveitis, Coats' disease, or combined hamartoma.[1] Optimal treatment for pediatric epiretinal membranes is not well understood and in general management in each case is addressed based on the etiology and severity of disease. Traumatic epiretinal membranes are commonly seen in both pediatric and adults after ocular trauma. Histologic analysis of surgically removed epiretinal membranes secondary to blunt trauma have revealed the membranes to be composed primarily of new collagen, but also to contain internal limiting membrane, fibrocytes, and myofibrocytes.[2]
There is little in the literature addressing the natural history of traumatic epiretinal membranes. Some have reported surgical intervention of traumatic epiretinal membranes.[3] It has been previously reported that macular holes resulting from trauma often close spontaneously. In one report, 8 of 18 eyes with traumatic macular holes closed within four months of the injury without surgical intervention.[4] Less is known about the natural history of traumatic epiretinal membranes in the absence of a macular hole. Herein, we report the natural history of a visually significant epiretinal membrane in a pediatric patient secondary to blunt trauma ocular trauma.
Epiretinal membranes can occur secondary to ocular trauma, and they sometimes present a treatment dilemma especially in the pediatric population due to the dearth of information available on the natural history of disease and management to optimize anatomic and visual outcomes. Traumatic epiretinal membranes may represent a subset of epiretinal membranes with a distinct course of disease. Future correlation with histopathological studies may be warranted to investigate potential differences in biochemical structure. Many surgeons might be inclined towards early operative intervention in a patient with an initial presentation similar to this case, but after reviewing the natural history of disease in this traumatic epiretinal membrane, significant improvement in vision and retinal architecture may be obtained with a period of observation.
Take-home points
Traumatic epiretinal membranes in the pediatric population may vary in natural history and optimal treatment patterns compared to non-traumatic epiretinal membranes.
A period of observation may be warranted in traumatic pediatric epiretinal membranes for possible spontaneous resolution.
References:
Trese M, Chandler DB, Machemer R: Macular pucker. II. Ultrastructure. Graefes Arch Clin Exp Ophthalmol.1983; 221(1):16-26.
Hsu JK, Haller JA, de la Cruz Z, Green WR, Secondary epiretinal membrane after blunt trauma. Md MJ.1994; 43(6):505-508.
Mason JO 3rd, Feist RM, White MF Jr. Ocular trauma from paintball-pellet war games. South Medl J. 2002; 95(2):218-222.
Yamashita T, Uemara A, Uchino E, Doi N, Ohba N. Spontaneous closure of traumatic macular hole. Am J Ophthalmol. 2002; 133(2):230-235.
Financial Disclosures
Dr. Caroll: None
Dr. Laird: None
Dr. Yan: None
Some content on this page is restricted to access by members only.