Spotlight Case: Which Came First, the Diagnosis or the Egg?
Case history
A 27-year-old male was referred for evaluation of decreased central acuity. His ophthalmic history was significant for hyperopic astigmatism, bilateral macular pigmentary changes, and a relative central scotoma. According to the patient, all had been present since childhood.
His records indicated that his visual acuity (VA) was 20/25+1 in both eyes in his teenage years. He stated that vision in both eyes had gradually worsened and reported no other problems.
Family history was notable for glaucoma in his maternal grandfather, macular degeneration in his maternal grandmother and great uncles, diabetes in his maternal and paternal grandfathers, and atherosclerotic cardiovascular disease in his paternal grandfather.
On examination, his best-corrected VA (BCVA) was 20/40 in both eyes. Visual fields were full to confrontation, but 10-2 automated visual fields were significant for symmetric bilateral central scotomas. An Amsler grid test was normal. Pupillary response and extraocular motility were normal, and color vision testing with Hardy-Rand-Rittler pseudoisochromatic plates was normal in both eyes.
Funduscopic photos and optical coherence tomography (OCT) imaging are shown in Figures 1-4.
| | |
| --- | --- |
| Figure 1: Color funduscopic photo of the right eye reveals an egg-yolk appearance of the macula. | Figure 2: Color funduscopic photo of the left eye reveals an egg-yolk appearance of the macula. |
Diagnosis
The patient was diagnosed with Best vitelliform macular dystrophy (BVMD or Best disease). His history of decreased central acuity of insidious onset, the presence
of classical vitelliform macular lesions on funduscopic imaging, and the OCT findings are classic for Best disease. His right eye and left eye are in different stages of involvement.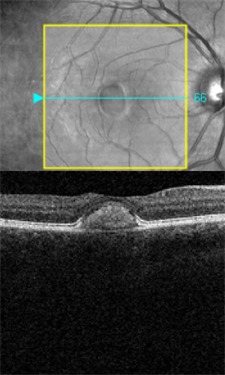 Figure 3: OCT imaging of the right eye reveals significant hyperreflective material beneath the fovea.
Figures 5 and 6 show fundus photos from 10 years prior.

Management
Aside from continued monitoring of the patient's VA and central scotoma, no further workup or intervention was indicated at the time of his diagnosis with Best disease.

Discussion
Best disease is a rare ophthalmic disorder characterized by early-onset macular degeneration with classic vitelliform changes (ie, egg-yolk lesions).[1-3]
Figure 4: OCT imaging of the left eye reveals subfoveal irregularity of the outer retina and RPE.
Although the true prevalence of BVMD is unknown, it has recently been estimated to be 1.5 cases per 100,000 people.[2] BVMD is an autosomal dominant disorder with incomplete penetrance and variable expression and involves mutation of the bestrophin-1 (BEST1) gene on chromosome 11q12-q13.[3] The gene product has been localized to the retinal pigment epithelium (RPE) and is thought to be a chloride channel that plays a role in cytosolic calcium homeostasis.[1,4]
Ultimately, lipofuscin accumulates at and within the RPE, which may be followed by subretinal fluid collection and photoreceptor atrophy. BEST1 mutations have also been associated with other disorders, such as autosomal recessive bestrophinopathy (ARB) and retinitis pigmentosa (RP).[1,2]
When BVMD is clinically apparent, it typically involves the presence of:
Decreased central acuity
Blurred vision
Metamorphopsia
Vitelliform macular lesions
The disease may be progressively staged, based on the appearance of the fundus. For example, the second stage is characterized by the classic lesions reminiscent of egg yolks, which sequentially evolve into:
Pseudohypopyon lesions
Vitelliruptive lesions
Atrophic/fibrotic lesions
However, BVMD may also be subclinical (ie, without symptoms or lesions detected during funduscopic examination).[3]
Diagnostic workup typically reveals:
Reduced light peak/dark trough (LD) ratio on electrooculogram (EOG)
Blockage effect within the choroid on fluorescein angiography (FA)
Increased autofluorescence by the vitelliform macular lesions
In cases of clinical BVMD, OCT may reveal lipofuscin accumulation. In subclinical BVMD, OCT may reveal a bilaterally thickened hyperreflective layer between the RPE and the inner segment/outer segment (IS/OS) junction.[3]


| | |
| --- | --- |
| Figure 5: Fundus photo of the left eye, 10 years prior. | Figure 6: Fundus photo of the right eye, 10 years prior. |
In rare instances, BVMD may be complicated by choroidal neovascularization (CNV), which may then result in the rapid decline of VA.[5] Potential treatments currently considered for CNV include:
Photodynamic therapy
Laser photocoagulation
Intravitreal injection of anti-VEGF agents (eg, ranibizumab and bevacizumab)[5,6]



Take-home points
BVMD is a rare autosomal-dominant disorder characterized by early-onset macular degeneration.
The classic finding of BVMD is the vitelliform macular lesion, which represents lipofuscin accumulation.
BVMD may also be subclinical, with only subtle changes visible on OCT.


References
1. Xiao Q, Hartzell HC, Yu K. Bestrophins and retinopathies [published online March 28, 2010]. Pflugers Arch. 2010;460(2):559-569. doi:10.1007/s00424-010-0821-5.
2. Bitner H, Schatz P, Mizrahi-Meissonnier L, Sharon D, Rosenberg T. Frequency, genotype, and clinical spectrum of best vitelliform macular dystrophy: data from a national center in Denmark [published online May 24, 2012]. Am J Ophthalmol. 2012;154(2):403-412.e4. doi:10.1016/j.ajo.2012.02.036.
3. Querques G, Zerbib J, Santacroce R, et al. The spectrum of subclinical Best vitelliform macular dystrophy in subjects with mutations in BEST1 gene. Invest Ophthalmol Vis Sci. 2011;52(7):4678-4684. doi:10.1167/iovs.10-6500.
4. Strauss O, Neussert R, Müller C, Milenkovic VM. A potential cytosolic function of bestrophin-1. Adv Exp Med Biol. 2012;723:603-610. doi:10.1007/978-1-4614-0631-0_77.
5. Ruiz-Moreno O, Calvo P, Ferrández B, Torrón C. Long-term outcomes of intravitreal ranibizumab for choroidal neovascularization secondary to Best's disease: 3-year follow-up [published online February 17, 2012]. Acta Ophthalmol . 2012;90(7):e574-e575. doi:10.1111/j.1755-3768.2011.02363.x.
6. Cennamo G, Cesarano I, Vecchio EC, Reibaldi M, de Crecchio G. Functional and anatomic changes in bilateral choroidal neovascularization associated with vitelliform macular dystrophy after intravitreal bevacizumab [published online June 28, 2012]. J Ocul Pharmacol Ther. 2012;28(6):643-646. doi:10.1089/jop.2011.0250.

Financial disclosures
Dr. Reddy - None.
Dr. Newman - None.
Mr. Kim - None.
Dr. Hau - SEQUENOM: Speaker, Honoraria; THROMBOGENICS, INC: Other, Honoraria.

Dr. Choudhry - None.
Dr. Albini - ALLERGAN, INC: Consultant, Honoraria; BAUSCH + LOMB, INC: Consultant, Honoraria; GENENTECH, INC: Grants, Other.
Some content on this page is restricted to access by members only.