Spotlight Case: Steroids Can Pump You Up!

Case history
A 39-year-old African American man with a history of sarcoidosis and renal transplantation was treated for acute retinal necrosis (ARN) syndrome in the right eye. Peripheral retinal whitening with perivascular sheathing was present in the right eye.
Polymerase chain reaction (PCR) of aqueous fluid confirmed the presence of herpes simplex virus (HSV). Treatment with intravitreal foscarnet x 3 and oral prednisone 60 mg daily followed by slow taper led to progressive resolution and consolidation of the retinal lesions. The left eye remained normal.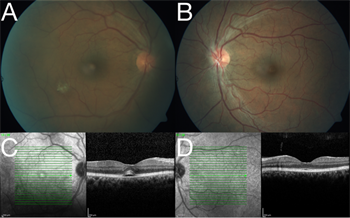 Figure 1: Color fundus photograph of the right eye shows an abnormal foveal reflex and an inactive retinitis lesion in the infero-temporal macula (A). Color fundus photograph of the left eye is normal (B). The image quality is slightly worse in the photograph of the right fundus due to early posterior subcapsular cataract (PSC) formation. Spectral domain optical coherence tomography (SD-OCT) of the right eye demonstrates a new small amount of subfoveal fluid (28 μm) (C). Corresponding SD-OCT of the left eye is normal (D).
Three months after this episode, he presented with mildly decreased visual acuity (VA) in the right eye. At this time, he was using:
Topical prednisolone acetate 1% every 2 hours
Oral prednisone 10 mg daily (5 mg above baseline dosage for renal transplant rejection prophylaxis)
Oral mycophenolate mofetil 500 mg BID
Oral tacrolimus 8 mg BID
Oral valacyclovir 1000 mg daily for antiviral prophylaxis
Examination revealed VA of 20/25 in the right eye. Slit lamp biomicroscopy showed rare residual pigmented keratic precipitates (KP) and trace posterior subcapsular cataract (PSC), but no anterior chamber or vitreous cells. Dilated ophthalmoscopy demonstrated foveal subretinal fluid (SRF) and scattered macular and peripheral chorioretinal scars without active retinitis in the right eye (Figure 1A).
The fundus exam of the left eye remained normal (Figure 1B). Optical coherence tomography (OCT) showed a small amount subfoveal fluid in the right eye and a compact fovea in the left eye (Figures 1C, 1D).
What's your diagnosis?
The differential diagnosis of subfoveal fluid without intraocular inflammation includes:
Posterior scleritis
Central serous chorioretinopathy (CSCR)
Resolved macular hole
Neovascular age-related macular degeneration
Vitreomacular traction
Residual fluid status post-retinal detachment repair
Polypoidal choroidal vasculopathy
Idiopathic and other causes of choroidal neovascularization
Optic nerve pit
Choroidal tumors
Malignant hypertension
Thrombocytopenic purpura (TTP)
Disseminated intravascular coagulation (DIC)
Preeclampsia, in pregnant women
Most of these possibilities were excluded in this patient based on the clinical history and exam. Given the absence of active ocular inflammation, the presumptive diagnosis of CSCR, likely secondary to corticosteroid use, was made.
The treatment plan was to slowly taper the topical steroid over 8 weeks and reduce oral prednisone to 5 mg, his baseline dose to prevent donor kidney rejection. Despite this, he returned 3 weeks later to a local ophthalmologist with mild eyelid swelling, and his oral prednisone was increased to 20 mg daily due to concern for recurrent intraocular inflammation.
Upon returning to our clinic 3 weeks afterward, his VA decreased to 20/40 in his right eye without signs of eyelid edema or intraocular inflammation. OCT demonstrated slight worsening of SRF in the right eye (Figure 2A). Given the absence of inflammation, we continued to treat for the presumptive diagnosis of CSCR.
| | |
| --- | --- |
| Figure 2: SD-OCT 6 weeks after initial presentation of SRF. There is increased subfoveal fluid in the right eye (115 μm) (A). Subsequent SD-OCT 4 weeks later demonstrates a further increase in the subfoveal fluid (143 μm) (B). Oral eplerenone was initiated, and SD-OCT 6 weeks later shows reduced SRF (63 μm). Note pronounced elongation and irregular outer contour of the ellipsoid zone/photoreceptor outer segments (C). | Figure 3: The subfoveal choroidal thickness, measured by EDI-OCT, was 506 μm in the right eye (A) and 461 μm in the left eye (B). |
The oral prednisone was again tapered to his baseline of 5 mg, and the importance of minimizing steroid use was discussed. Four weeks later, the VA remained unchanged at 20/40 and the SRF persisted (Figure 2B). Enhanced-depth imaging (EDI) OCT demonstrated a mildly thickened choroid subfoveally in both eyes (Figures 3A, 3B), and the PSC was more pronounced.
After discussion with his nephrologist, the patient was treated with oral eplerenone 25 mg per day for 1 week, then increased to 50 mg daily, with close potassium monitoring. Two months later, he returned with improved SRF (Figure 2C), but a further decrease in VA to 20/200 secondary to progressive PSC.
The plan was to continue treatment with eplerenone for an additional 3 to 4 months with subsequent cataract surgery if the SRF resolves.
Discussion
CSCR presents as a neurosensory serous macular detachment typically in middle-aged individuals, more often in males. The most likely etiology lies in the choroidal vasculature, but primary involvement of the retinal pigment epithelium may also play a role.[1] The most established risk factor is corticosteroid use, both exogenous administration, systemic or any local route, as well as increased endogenous levels such as in Cushing's disease.[1]
The exact role of corticosteroid dysregulation of the choroid is poorly understood, but recent evidence suggests that choroidal vasodilatation via mineralocorticoid receptors may play a role.[2-3] H. pylori infection, genetic predisposition, and Type A personality continue to be discussed as potential etiologies of CSCR.[1]
Ancillary testing can be helpful in diagnosing CSCR. EDI-OCT typically shows increased choroidal thickness. Reported subfoveal choroidal thickness in CSCR varies from 367.81 (± 105.56 μm)[4] to 505 (± 124 μm)[5] vs 287 (± 76 μm)[6] in normal eyes and may decrease following photodynamic therapy (PDT).[7]
Fluorescein angiography reveals pinpoint leakage in most cases and a classic smoke stack pattern occasionally.[1] Indocyanine green (ICG) angiography can aid in diagnosing questionable cases and may show areas of mid to late-choroidal hyperpermeability.[1]
Interestingly, ARN and CSCR may be the most common retinal complication following kidney transplantation. [8] CSCR sequential to ARN in a non-transplant patient has been reported in the literature with improvement of VA and SRF after cessation of steroids and initiation of oral acetazolamide. [9]
In our patient, complete steroid cessation was not deemed safe due to the patient's renal transplant. Other systemic treatment of CSCR may consist of:
Agents targeting cortisol pathways:
Liver enzymatic activator (rifampin)[10]
Partial inhibitor of steroid synthesis (ketoconazole)[11]
Glucocorticoid receptor antagonist (mifepristone)[12]
Inhibitor of dihydotestosterone synthesis (finasteride)[13]
Carbonic anhydrase inhibitor (acetazolamide)[14]
Mineralocorticoid receptor antagonist (eplerenone)[3]
In treatment of refractive cases, we typically employ half-fluence verteporfin PDT, especially in cases with choroidal leakage on ICG. Focal laser photocoagulation to the angiographic leak and subthreshold diode micropulse laser to areas of detached retina may play a role as well.[1]
Take-Home Points

CSCR is a potential complication of steroid use in eyes with ARN.
Mainstay of CSCR treatment is cessation or reduction of corticosteroids if possible. For advanced or refractive cases, eplerenone is a new promising treatment targeting mineralocorticoid receptors. The most common side effect of eplerenone is hyperkalemia, highlighting the need for close potassium monitoring.
Even in cases of ARN, the suspicion for a secondary process such as CSCR cannot be totally eliminated.
References
Nicholson B, Noble J, Forooghian F, Meyerle C. Central serous chorioretinopathy: update on pathophysiology and treatment. Surv Ophthalmol. 2013;58(2):103-126. doi:10.1016/j.survophthal.2012.07.004.
Zhao M, Celerier I, Bousquet E, et al. Mineralocorticoid receptor is involved in rat and human ocular chorioretinopathy [published online June 11, 2012]. J Clin Invest. 2012;122(7):2672-2679. doi:10.1172/JCI61427.
Bousquet E, Beydoun T, Zhao M, Hassan L, Offret O, Behar-Cohen F. Mineralocorticoid receptor antagonism in the treatment of chronic central serous chorioretinopathy: a pilot study. Retina. 2013;33(10):2096-2102. doi:10.1097/IAE.0b013e318297a07a.
Chung SE, Kang SW, Lee JH, Kim YT. Choroidal thickness in polypoidal choroidal vasculopathy and exudative age-related macular degeneration [published online January 6, 2011]. Ophthalmol. 2011;118(5):840-845. doi:10.1016/j.ophtha.2010.09.012.
Imamura Y, Fujiwara T, Margolis R, Spaide RF. Enhanced depth imaging optical coherence tomography of the choroid in central serous chorioretinopathy. Retina. 2009;29(10):1469-1473. doi:10.1097/IAE.0b013e3181be0a83.
Margolis R, Spaide RF. A pilot study of enhanced depth imaging optical coherence tomography of the choroid in normal eyes [published online February 20 2009]. Am J Ophthalmol. 2009;147(5):811-815. doi:10.1016/j.ajo.2008.12.008.
Maruko I, Iida T, Sugano Y, Ojima A, Ogasawara M, Spaide RF. Subfoveal choroidal thickness after treatment of central serous chorioretinopathy [published online May 15, 2010]. Ophthalmol. 2010;117(9):1792-1799. doi:10.1016/j.ophtha.2010.01.023.
Chung H, Kim KH, Kim JG, Lee SY, Yoon YH. Retinal complications in patients with solid organ or bone marrow transplantations. Transplantation. 2007;83(6):694-699.
Stuebiger N, Biester S, Deuter CM, Zierhut M. An unusual case of central serous chorioretinopathy in a patient with acute retinal necrosis.Ocul Immunol Inflamm. 2008;16(3):109-111. doi:10.1080/09273940802056299.
Steinle NC, Gupta N, Yuan A, Singh RP. Oral rifampin utilisation for the treatment of chronic multifocal central serous retinopathy [published onilne November 3, 2011]. Br J Ophthalmol. 2012;96(1):10-13. doi:10.1136/bjophthalmol-2011-300183.
Meyerle CB, Freund KB, Bhatnagar P, Shah V, Yannuzzi LA. Ketoconazole in the treatment of chronic idiopathic central serous chorioretinopathy. Retina. 2007;27(7):943-946.
Nielsen JS, Jampol LM. Oral mifepristone for chronic central serous chorioretinopathy Retina. 2011(9);31:1928-1936. doi:10.1097/IAE.0b013e31821c3ef6.
Forooghian F, Meleth AD, Cukras C, Chew EY, Wong WT, Meyerle CB. "Finasteride for chronic central serous chorioretinopathy." Retina. 2011;31(4):766-771. doi:10.1097/IAE.0b013e3181f04a35.
Pikkel J, Beiran I, Ophir A, Miller B. Acetazolamide for central serous retinopathy. Ophthalmol. 2002;109(9):1723-1725.
Financial Disclosures
Dr. Oellers – None.
Dr. Fekrat – PRANA BIOTECHNOLOGY: Consultant, Honoraria.
Dr. Yiu – None.
Some content on this page is restricted to access by members only.