Spotlight Case: Explaining the Exudates in a 15-Year-Old Healthy Female
Case history
A 15-year-old healthy Caucasian female presented with a 6-week history of decreased vision and floaters OS; she denied flashes, pain, or metamorphopsia. Patient had received Gardasil and varicella booster vaccinations 3 months prior. Additionally, she had recently been treated with oral cephalexin for a skin infection from a domesticated dog bite.
Born full-term, the patient was healthy, on no medications, and had an unremarkable review of systems. Her ophthalmologic examination was normal 4 years ago. Her mother had childhood strabismus, but no significant visual deficit. Patient denied substance use, lived with no pets, and had not travelled recently.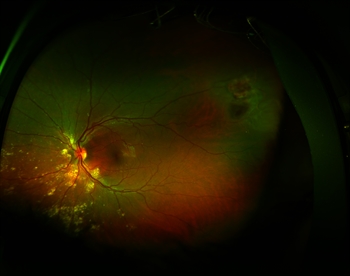 Figure 1. Optos wide-field photograph OS reveals exudates and an elevated superotemporal peripheral lesion surrounded by vascular sheathing, arteriovenous anastomoses, sclerotic vessels, and anterior ischemic retina. There is also adjacent heme, exudation, and overlying traction.
Examination revealed visual acuity of 20/20 OD, 20/20-2 OS. Pupils, intraocular pressures, extraocular motility, and visual fields were normal. Slit-lamp examination was unremarkable without cell in either eye. Dilated fundus examination OD was normal; OS revealed a hyperemic optic nerve, flat central macula, clear vitreous, and exudates clustered in the inferonasal quadrant (Figures 1 and 2). There was an elevated lesion in the superotemporal periphery with overlying heme and exudates and obvious traction on the surrounding retina. Anterior to this lesion were sclerotic vessels, arteriovenous anastomoses, vascular sheathing, and ischemic retina (Figure 1).
| | |
| --- | --- |
| Figure 2. Fundus photo OD is unremarkable; OS reveals posterior exudates, clustered in the inferonasal quadrant. | |
Optical coherence tomography (OCT) revealed retinoschisis of the innermost retina, extending from the temporal macula to the superotemporal periphery (Figure 3). B-scan ultrasonography confirmed the peripheral lesion (Figure 4). Patient's parents chose to defer fluorescein angiography (FA) until returning from vacation in 3 weeks.
| | |
| --- | --- |
| Figure 3. Spectral-domain OCT reveals inner retinal schisis cavity in temporal macula (right). Peripheral OCT (left) demonstrates the extent of the retinoschisis cavity to the superotemporal periphery, where it likely originates from the lesion exerting traction on the surrounding retina. | |
What's your diagnosis?
Differential diagnosis includes:
Infectious:
Infectious neuroretinitis
Necrotizing retinitis
Peripheral granuloma
Vascular lesions:
Solitary retinal angioma
Peripheral choroidal neovascular membrane
Coats' disease
Genetic disorders:
Retinal capillary hemangioblastoma
Patient underwent laboratory testing (CBC, CRP/ESR, ACE, FTA-Abs, ANA, Quant-TB gold, Toxocara antibodies, Toxoplasma IgG/IgM, Bartonella IgG/IgM, Lyme antibodies) and was started on doxycycline 100 mg po bid x 3 weeks to empirically cover an atypical neuroretinitis. When she returned, she had no change in symptoms, but perhaps more exudation on exam. Tests for infectious agents were all negative. Wide-field fluorescein angiography revealed leakage near the lesion and exudates and highlighted anomalous vasculature and capillary dropout (Figure 5). She was given a diagnosis of probable Coats' disease and is undergoing staged laser photocoagulation. FEVR genotyping is pending, as discussed below.
| | |
| --- | --- |
| Figure 5. Fluorescein angiogram at 0:16 (left) and 9:12 (right) reveals A-V anastomoses, telangiectasias, and capillary dropout near the superotemporal lesion. There is blockage from the overlying heme and leakage from the abnormal vasculature both superotemporally, as well as in the posterior pole in the area of exudates. | |

Discussion
First described in 1908, Coats' disease is a rare, congenital, nonhereditary condition characterized by idiopathic vascular abnormalities, which lead to fluid accumulation and exudate intraretinally and subretinally.[1] It is typically unilateral (>95%) and occurs predominantly in young males in their first decade of life (75%).[2] There is no racial or systemic association.
Patients often present with decreased vision, leukocoria, or strabismus. The hallmark abnormality is anomalous vasculature, including retinal telangiectasias, arteriovenous anastomoses, light bulb aneurysms, and vascular sheathing. Other signs include exudates, subretinal or intraretinal fluid, exudative retinal detachment, or a fibrotic nodule. Interestingly, the exudation is generally in the posterior pole, while the primary pathology—the telangiectatic vessels—is usually in the periphery. This separation may be due to more active pumping by the retinal pigment epithelium in the posterior pole.[3]
Coats' disease can resemble pathologies such as:
Retinoblastoma
FEVR
Retinopathy of prematurity
Persistent fetal vasculature
Retinal capillary hemangioma
Retinal cavernous hemangioma
Incontinentia pigmenti
Norrie's disease
Sickle cell disease
Eales disease
Toxocariasis
Of note, a retinal angioma—which the lesion here may represent—can occur in both Coats' disease and FEVR.[4] Retinitis pigmentosa, branch retinal vein occlusion, and toxoplasmosis can cause a Coats'-like reaction.
One classification scheme categorizes Coats' disease into 5 stages[5]:
Stage 1: telangiectasias only
Stages 2A/B: presence of exudation
Stages 3A/B: subtotal or total retinal detachment
Stage 4: total retinal detachment with secondary glaucoma
Stage 5: end-stage disease
The mainstay therapy for Coats' disease is staged low-power scatter laser photocoagulation targeting the telangiectasias. Cryotherapy is helpful in areas of significant subretinal fluid or exudate. Advanced cases require surgical intervention. Intraocular steroids[6] and anti-vascular endothelial growth factor agents have been reported to be helpful therapeutic adjuncts.[7] Prognosis of Coats' disease depends often on presenting vision and extent of exudation or detachment.[8] Several case series suggest that the older the patient at diagnosis, the more indolent the disease course .[9,10]
While we conclude that the patient most likely has Coats' disease (albeit an atypical presentation given her gender and age), the authors acknowledge that a diagnosis of FEVR must also be considered. However, the unilateral presentation, lack of family ocular history, localized area of peripheral avascularity, lack of straightened vessels, and absence of temporal macular dragging also argue against a typical FEVR presentation. While awaiting genotyping for FEVR, the current therapeutic focus is controlling the exudation. The patient is responding accordingly thus far.

Take-home points
Coats' disease is typically a unilateral, non-hereditary, congenital disease of young males marked by vascular anomalies, which lead to exudation in the retina. Once the diagnosis is made clinically, it is treated mainly with laser photocoagulation in its earlier stages and surgical intervention in its advanced forms. As Coats' disease can resemble multiple diseases, careful consideration of other diagnoses is necessary.

References
Coats G. Forms of retinal disease with massive exudation. Roy Lond Ophth Hosp Rep. 1908;17:440-525.
Shields CL, Kaliki S, Al-Dahmash S, et al. Retinal vasoproliferative tumors: comparative clinical features of primary vs. secondary tumors in 334 cases. JAMA Ophthalmol. 2013;131(3):328-334. doi: 10.1001/2013.jamaophthalmol.524.
Hsu J, Forbes B, Maguire AM. Total exudative retinal detachment in Coats' disease: Biochemical analysis of the subretinal exudate. Retina. 2006;26(7):831-833.
Javellana JA, Drouilhet JH, Kokame GT, Chee PH, Wong BM. Retinal capillary angioma in familial exudative vitreoretinopathy treated with photodynamic therapy. Am J Ophthalmol. 2004;137(4):780-782.
Shields JA, Shields CL, Honavar SG, Demirci H, Cater J. Classification and management of Coats' disease: The 2000 Proctor Lecture. Am J Ophthalmol. 2001;131(5):572-583.
Martínez-Castillo S, Gallego-Pinazo R, Dolz-Marco R, Marín-Lambíes C, Díaz-Llopis M. Adult Coats' disease successfully managed with the dexamethasone intravitreal implant (Ozurdex) combined with retinal photocoagulation [published online March 26, 2012]. Case Rep Ophthalmol. 2012;3(1):123-127. doi: 10.1159/000337481.
Ray R, Barañano DE, Hubbard GB. Treatment of Coats' disease with intravitreal bevacizumab [published online December 25, 2012]. Br J Ophthalmol. 2013;97(3):272-277. doi: 10.1136/bjophthalmol-2012-302250.
Fernandes B, Odashiro A, Maloney S, et al. Clinical-histopathological correlation in a case of Coats' disease. Diagn Pathol. 2006;1:24.
Lai CH, Kuo HK, Wu PC, Kuo ML, Chen YJ. Manifestation of Coats' disease by age in Taiwan. Clin Experiment Ophthalmol. 2007;35(4):361-365.
Smithen L, Brown G, Brucker A, et al. Coats' Disease Diagnosed in Adulthood. Ophthalmol. 2005;112(6):1072-1078.
Financial disclosures
Dr. Weng - None.
Dr. Davis - SANTEN: Investigator, Grants; XOMA: Consultant, Honoraria.
Dr. Hau - SEQUENOM: Speaker, Honoraria; THROMBOGENICS, INC: Other, Honoraria.
Dr. Choudhry - None.
Some content on this page is restricted to access by members only.