Spotlight Case: Culture Shock
Case history
A 58-year-old woman was admitted to the intensive care unit for nonalcoholic steatohepatitis with cirrhosis, hepatoencephalopathy, and beta-hemolytic streptococcus bacteremia. On day 10 of hospitalization she complained of vision loss, eye pain, photophobia, and a 3-day headache. Her ocular history was significant for bilateral cataract surgery and vitrectomy in the right eye for vitreous hemorrhage secondary to proliferative diabetic retinopathy. These procedures were performed at an outside hospital more than 2 years prior to her current admission.
On examination her visual acuity (VA) at bedside was only hand motions, no relative afferent pupillary defect was present, and intraocular pressure (IOP) was 17 and 19 in the right and left eye, respectively. Her anterior segment examination was significant for a hazy anterior chamber in the right eye and 20% layered hyphema in the left. Her hyphema was felt to be multifactorial, related to her thrombocytopenia and anticoagulation with Coumadin (warfarin sodium, Bristol-Myers Squibb Company, New York, NY).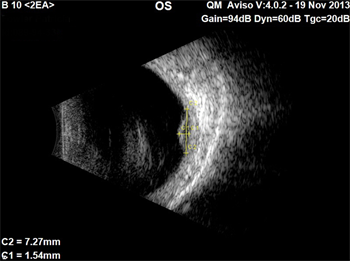 Figure 1: B-scan ultrasound of left eye revealing 7.27 mm x 1.56 mm retinal lesion.
Fundus examination of the right eye revealed a hazy vitreous with scattered microaneurysms around the macula and a 4 mm circular, creamy, yellow-white subretinal lesion 2 disc diameters temporal to the fovea. The left fundus was unable to be visualized. B-scan ultrasound of the left eye revealed a 7.27 mm x 1.56 mm retinal lesion (Figure 1).
Cultures of the left eye were obtained via vitreous tap at bedside on day 19 of her hospitalization, 2 days after the onset of her symptoms. The patient was initially treated medically with intravitreal vancomycin and cefepime in both eyes as well as intravenous and topical moxifloxacin. Pars plana vitrectomy was performed in the left eye 30 days after the initiation of antibiotic therapy due to progressive vision loss. When the posterior pole was visualized, a large asbcess was seen superotemporal to the fovea. An intraoperative photo of abscess debulking is shown in Figure 2.


What's your diagnosis?
The patient was diagnosed with endogenous bacterial endophthalmitis. Vitreous paracentesis and culture grew Enterobacter cloacae at 48 hours. Extensive imaging workup did not reveal any specific source for the infection.

Discussion
Gram-negative endophthalmitis is less common than gram-positive bacterial endophthalmitis. The clinical course of endophthalmitis caused by gram-negative infection is typically acute in onset and rapidly progressive­.[1,2] This is consistent with the clinical course of this patient. Published studies have isolated Enterobacter cloacae infection secondary to ophthalmic surgery or ocular trauma; however, to our knowledge, this is the first reported case of endogenous bacterial endophthalmitis caused by Enterobacter cloacae.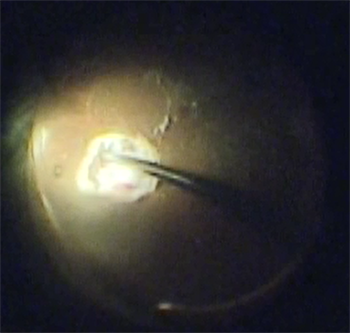 Figure 2: Intraoperative photo of abscess debulking in the left eye.
Jackson et al documented a source for infection in 70% of cases of endogenous bacterial endophthalmitis.[3] While this patient had multiple premorbid conditions that could have predisposed her to infection, no specific source of infection could be found after extensive imaging workup. This observation raised suspicion for potential vitreous culture contamination. However, because exam findings, imaging findings, and clinical course of the patient were all consistent with gram-negative endophthalmitis, it is unlikely that the isolated organism was a contaminant. Additionally, Enterobacteriaceae is an uncommon culture contaminant.[4]
Vitreous cultures at the time of vitrectomy were negative, likely due to previous antibiotic exposure. The patient did not have any prior systemic steroid use or other signs of being immunocompromised, other than poorly controlled diabetes mellitus. Despite appropriate antibiotic coverage with intravitreal injections of 0.05 cc vancomycin (1 mg/1 ml) and 0.05 cc cefepime (2.25 mg/0.1 ml), as well as intravenous and topical moxifloxacin, the patient's visual outcome at 2 months follow-up was poor. Her VA was counting fingers in the right eye and 20/300 in the left eye.

Take-home points
Endogenous infection from Enterobacter cloacae is uncommon.
Gram-negative endophthalmitis is generally associated with poor visual outcomes, and aggressive treatment should be considered.
Prompt vitreous tap and culture are essential for patients suspected of having endogenous endophthalmitis, in order to provide appropriate antimicrobial therapy targeted at the causative organism.
References
Some content on this page is restricted to access by members only.