Spotlight Case: A Unique Case of Unilateral Acute Idiopathic Maculopathy
Case history
A 35-year-old male presented to the retina clinic after sudden loss of vision OS. Other than this presenting complaint, he was asymptomatic, including no report of flashes, floaters, or pain. He denied any recent illnesses and ocular history was significant only for LASIK surgery approximately 11 years prior to presentation. Significant medical history included sleep apnea and allergic rhinitis, which was not being treated with nasal steroids. Family history included macular degeneration and glaucoma in first-degree relatives.
Clinical examination revealed best corrected visual acuities of 20/20 OD and 20/40 OS. Anterior segment examination was unremarkable. Dilated examination revealed cup-to-disc ratio of 0.7 bilaterally. Retinal examination OD was unremarkable. Fundus examination OS revealed retinal pigment epithelium (RPE) mottling and subretinal fluid centrally in the macula (Figure 1). Fluorescein angiography showed late staining of the lesion in the central macula (Figure 2). OCT shows multiple neurosensory detachments and sub-RPE thickening (Figure 3).

What's your diagnosis?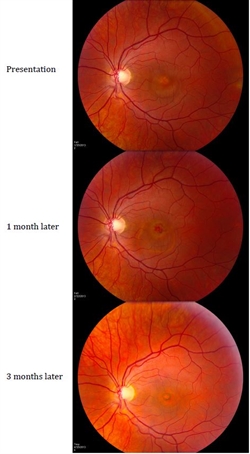 Figure 1
The patient was diagnosed with probable central serous chorioretinopathy (CSCR) and scheduled to follow up in 4 weeks or sooner if he developed any worsening vision.
On the 4-week follow-up visit, the patient's visual acuity OS was found to have significantly worsened to 20/400. Examination showed worsening subretinal fluid in OS with new associated subretinal hemorrhage (Figures 1 and 3). In addition, fluorescein angiography shows a central lesion with occult leakage (Figure 2). Due to these new findings, the patient was started on monthly Lucentis (ranibizumab, Genentech, South San Francisco, CA) injections OS. At 3 months after presentation, the neurosensory detachments resolved (Figures 1 and 3). His visual acuity dramatically improved over the next 2 months to 20/20 OS and remained stable on further follow-up.
Laboratory workup included serologic testing, which was unremarkable except for antibodies to coxsackievirus B2 that returned titers of 1:40 (positive).

Discussion
The differential diagnosis of retinal pathology leading to acute unilateral vision loss in younger patients is varied. In cases presenting with similar clinical findings to our patient, this differential may be narrowed to idiopathic choroidal neovascularization, (CSCR) acute posterior multifocal placoid pigment epitheliopathy (APMPPE), Vogt-Koyanagi-Harada syndrome, syphilitic retinitis, and unilateral acute idiopathic maculopathy.[1, 2]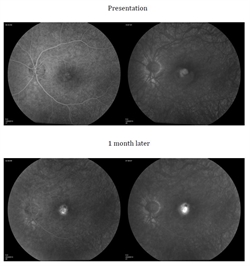 Figure 2
Unilateral acute idiopathic maculopathy (UAIM) is an inflammatory entity originally described by Yannuzzi in 1991.[2] In a case series, he describes 9 patients with abrupt onset of severe, unilateral vision loss with a flu-like prodrome. These patients shared the following characteristics:
Sudden, severe, unilateral vision loss
Vision loss preceded by flu-like illness
Rapid, spontaneous, near-complete recovery of central vision
Neurosensory macular detachment
Characteristic macular pigment changes
Macular lesions demonstrated a grey, white, or yellow discoloration beneath an area of subretinal fluid. There may be associated intraretinal hemorrhages and posterior vitreous cell.[3] On fluorescein angiography, the central macula demonstrated an early area of hypofluorescence with hyperfluorescence in the area of the neurosensory detachment. Late angiography consistently showed 2 patterns of hyperfluorescence, staining in the area of RPE thickening, and pooling in the area of neurosensory detachment. In addition, after resolution of the neurosensory detachment, many patients showed a residual bull's eye maculopathy.[2] Our patient demonstrated these characteristics, as seen in the figures.
An association with coxsackievirus and associated hand, foot, and mouth disease (HFMD) has been suggested in some publications. Beck et al reported 2 patients with UAIM who had positive coxsackievirus titers (A16 & B6). These patients also reported antecedent symptoms of HFMD, including sore throat, fever, and papular eruption on palms and soles.[4] Despite the fact that our patient reported no noticeable flu-like symptoms prior to presentation, his serologies were positive for coxsackievirus B2.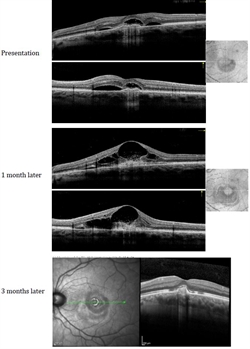 Figure 3
On follow up, our patient developed choroidal neovascularization and subretinal hemorrhage. This coincided with a drastic decrease in visual acuity. While Yannuzzi did report a case of secondary choroidal neovascularization following resolution of the acute exudative phase and improvement in vision,[2] there have not been any reported cases of UAIM that have developed concurrent choroidal neovascularization during the active phase. Our patient likely would have spontaneously improved without intervention if not for the choroidal neovascularization. Despite this rare complication, our patient did well on anti-vascular endothelial growth factor (anti-VEGF) therapy. Our patient's presentation may represent a previously theorized but unreported variation in the spectrum of unilateral acute idiopathic maculopathy that, in this case, was successfully treated with anti-VEGF therapy.

Take-home points
Unilateral acute idiopathic maculopathy is a disease of young, healthy individuals presenting with sudden central vision loss with preceding flu-like symptoms.
Visual recovery back to near baseline is typically spontaneous and occurs within weeks to months.
A residual bulls-eye maculopathy may be seen after recovery.
Choroidal neovascularization was seen in the acute phase of UAIM, which was not previously reported, and was managed successfully with intravitreal anti-VEGF injections.

References
Gupta A, Rogers S, Matthews BN. Unilateral acute idiopathic maculopathy. Br J Ophthalmol. 2009;93(8):1073-1074. doi:10.1136/bjo.2008.140335.
Yannuzzi LA, Jampol LM, Rabb MF, Sorenson JA, Beyrer C, Wilcox LM Jr. Unilateral acute idiopathic maculopathy. Arch Ophthalmol. 1991;109(10):1411-1416.
Freund KB, Yannuzzi LA, Barile GR, Spaide RF, Milewski SA, Guyer DR. The expanding clinical spectrum of unilateral acute idiopathic maculopathy. Arch Ophthalmol. 1996;114(5):555-559.
Beck AP, Jampol LM, Glaser DA, Pollack JS. Is coxsackievirus the cause of unilateral acute idiopathic maculopathy? Arch Ophthalmol. 2004;122(1):121-123.

Financial disclosures
Dr. Kuruvilla – None
Dr. Ahmed – None
Dr. Kumar – None
Dr. Desai – None
Dr. Hau - SEQUENOM: Speaker, Honoraria; THROMBOGENICS, INC: Other, Honoraria.

Dr. Choudhry - None.
Some content on this page is restricted to access by members only.