The Founders Award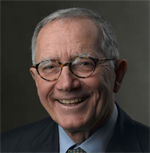 Lawrence A. Yannuzzi, MD, professor of
ophthalmology at Columbia University
Medical School and founder and director
of The LuEsther T. Mertz Retinal Research
Center and the Macula Foundation, is the
2019 ASRS Founders Award recipient.

The Founders Award was first presented in
1997 to honor the efforts of the Society's founders, Drs. Jerald A. Bovino, Roy A. Levit, and Allen Z. Verne, for their foresight, dedication, and leadership in establishing the Society as an open, democratic, worldwide organization dedicated to the advancement of vitreoretinal surgery and the study of vitreoretinal diseases.

After receiving his award at the ASRS Annual Scientific Meeting, Dr. Yannuzzi presented the 23rd Annual Founders Award Lecture, "The Legend of Cuticular Drusen." He is being recognized by the Society for outstanding career contributions that define the word founder. He has made numerous, original, innovative, and lasting contributions in imaging, drug development, and diagnostics as well as therapeutic modalities for macular diseases. Through his research, Dr. Yannuzzi has discovered new macular diseases and new manifestations of known disorders such as "wet" age-related macular degeneration.

He has also published more than 600 scientific papers and 14 books, gaining the respect and admiration of the ophthalmic community. One of his most recent books, The Retinal Atlas, has become a standard teaching module in 7 languages; and in 2018, he co-edited Pathologic Myopia, a volume on the leading cause of severe vision loss worldwide.

Dr. Yannuzzi is also widely recognized as a devoted and excellent educator, having trained more than 150 national and international retinal fellows. He has received numerous prestigious awards, including an honorary doctorate from Ancona University in Italy; the Distinguished Alumnus Award from Boston University; the Hermann Wacker Prize of the Club Jules Gonin; the Award of Merit in Retina Research from the Retina Society; the J. Donald Gass Medal from the Macula Society, the Pisart Award in Vision Science from the Lighthouse Guild, the Grand Officer of the Star of Italian Solidarity from the president of the Italian Republic, and a Lifetime Achievement Award from the American Academy of Ophthalmology.
More recently, Dr. Yannuzzi received the ASRS Crystal Apple Award and the Charles Schepens Medal of the American Academy of Ophthalmology, and in 2016 he was honored by the Association for Research in Vision and Ophthalmology (ARVO) with its coveted Mildred Weisenfeld Award for Excellence in Ophthalmology.
Founders Lecture Honorees
1997 Steve Charles, MD
1998 Neil E. Kelly, MD and Robert T. Wendel, MD
1999 Eugene de Juan, Jr., MD
2000 Robert Machemer, MD
2001 J. Donald M. Gass, MD
2002 Harvey Lincoff, MD
2003 William S. Tasman, MD
2004 Manfred Spitznas, MD
2005 Stephen J. Ryan, MD
2006 Kirk H. Packo, MD
2007 Philip J. Rosenfeld, MD, PhD
2008 Alexander J. Brucker, MD
2009 Emily Y. Chew, MD
2010 Joan W. Miller, MD
2011 William F. Mieler, MD
2012 David W. Parke, II, MD
2013 Trexler Topping, MD
2014 Paul Sternberg, MD
2015 Richard F. Spaide, MD
2016 Carol L. Shields, MD
2017 John T. Thompson, MD
2018 Wiley A. Chambers II, MD
2019 Lawrence A. Yannuzzi, MD