The Founders Award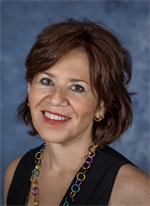 María H. Berrocal, MD, FASRS, CEO of Drs. Berrocal and Associates in San Juan, Puerto Rico, and associate professor at the University of Puerto Rico, is the recipient of the 2022 ASRS Founders Award. She is receiving the award for her major contributions to the advancement of vitreoretinal surgery, treatment, research, and patient care.
The Founders Award was first presented in 1997 to honor the efforts of the Society's founders, Drs. Jerald A. Bovino, Roy A. Levit, and Allen Z. Verne, for their foresight, dedication, and leadership in establishing the Society as an open, democratic, worldwide organization dedicated to the advancement of vitreoretinal surgery and the study of vitreoretinal diseases.

Dr. Berrocal's research interests include new techniques in vitreoretinal surgery, with a particular focus on complications of diabetic retinopathy. She has participated in numerous studies of novel treatments for managing diabetic complications. She has been an invited speaker and visiting surgeon in over 20 countries.

Dr. Berrocal is a Retina Hall of Fame inductee and has received the ASRS Senior Honor Award, the American Academy of Ophthalmology Senior Achievement Award and has been awarded the Doctors' Choice Award yearly since 2002. She has also been awarded the Stanley Chang Lectureship and the J. Donald Gass Lectureship, as well as the founders lectureships of the Aspen Retinal Detachment Society and the Pan-American Vitreoretinal Society, and has delivered the Bryan Liddy Lecture, Robison B. Harley Lecture, and Navas Lecture, in addition to being a Vit-Buckle Society keynote speaker.
Dr. Berrocal has authored and co-authored over 160 articles and book chapters, is past president of the Pan-American Vitreoretinal Society, and has held numerous positions in medical and philanthropic societies. She has established scholarships for cancer survivors and university students, and has helped establish a drug rehabilitation center in San Juan. Dr. Berrocal serves on several editorial boards and is a reviewer of many ophthalmic journals.
Learn more about Dr. Berrocal in this Leaders & Legends interview.
---
Founders Lecture Honorees
1997 Steve T. Charles, MD, FASRS
1998 Neil E. Kelly, MD and Robert T. Wendel, MD
1999 Eugene de Juan, Jr., MD
2000 Robert Machemer, MD
2001 J. Donald M. Gass, MD
2002 Harvey Lincoff, MD
2003 William S. Tasman, MD
2004 Manfred Spitznas, MD
2005 Stephen J. Ryan, MD
2006 Kirk H. Packo, MD, FACS, FASRS
2007 Philip J. Rosenfeld, MD, PhD
2008 Alexander J. Brucker, MD
2009 Emily Y. Chew, MD
2010 Joan W. Miller, MD
2011 William F. Mieler, MD
2012 David W. Parke, II, MD
2013 Trexler Topping, MD, FASRS
2014 Paul Sternberg, MD
2015 Richard F. Spaide, MD
2016 Carol L. Shields, MD, FASRS
2017 John T. Thompson, MD, FASRS
2018 Wiley A. Chambers II, MD
2019 Lawrence A. Yannuzzi, MD
2020 Carl D. Regillo, MD, FACS, FASRS
2021 Stanislao Rizzo, MD, FASRS
2022 Maria H. Berrocal, MD, FASRS


Some content on this page is restricted to access by members only.