Society News — Member & Society News
New History of Retina Initiative Kicks off With Dynamic Website Experience!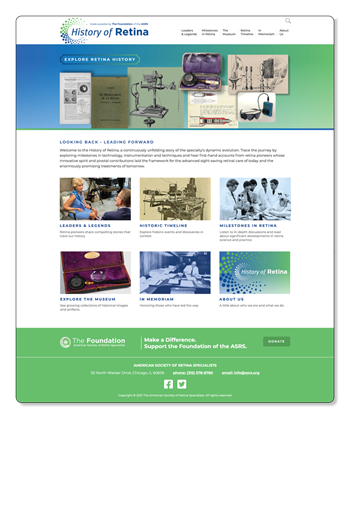 The Foundation of the American Society of Retina Specialists has launched its much-anticipated History of Retina this week with the introduction of a vibrant new website.
The exciting, multi-year project aims not only to preserve retina's history and heritage for future generations of retina practitioners, but to educate the public about the extraordinary sight-saving care provided by retina specialists through the years.
"Retina's story of exponential growth and innovation is truly unprecedented," said History of Retina Co-director Kirk H. Packo, MD, FACS, FASRS. "The History of Retina showcases the pioneering spirit of the retina community that has resulted in miraculous advances for our patients."
The new website showcases the dynamic evolution of retina through a collection of compelling oral histories shared by some of the field's most revered pioneers, as well as captivating images, informative written vignettes, and an historic timeline that charts the course.
Leaders & Legends: A series of intimate oral history interviews featuring personal stories of retina's coming of age told by giants in the field. Visit retinahistory.asrs.org to see the expanding history collections, including:
Milestones in Retina: Informative panel discussions, interviews and write ups exploring pivotal developments in the field – instrumentation, procedures and more.
Historic timeline: Follow retina's evolutionary course through time.
Reflections in Retina: Powerful insights, recollections and pearls from luminaries in the field.
Tributes: Stories that pay tribute to past leaders in retina and their extraordinary contributions.
"This is just the beginning," said History of Retina Co-director Timothy G. Murray, MD, MBA, FASRS. "We look forward to building on the History of Retina collections and encourage participation from the retina community world wide."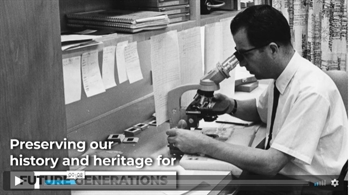 Future plans include a traveling pop-up museum for meeting display that will feature rare retina artifacts, captivating imagery and dynamic video displays.
"We are deeply grateful to the many contributors who have helped bring the History of Retina to life," said History of Retina Co-director John S. Pollack, MD, FASRS.
Those interested in making an image or artifact donation to the History of Retina are asked to please email a description to the Artifact Review Committee at retina.history@asrs.org. Those who would like to support the History initiative through a monetary donation can do so at asrs.org/foundation/donate-now.
Click here for access to our History of Retina preview video >>