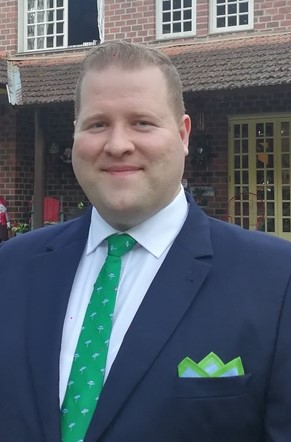 Gustavo Hüning, MD, MBA, DiSSO
Clínica do Olhar - HCAA
Av. Presidente Vargas, 2355
855V+6G Santa Maria, RS
4o andar
Santa Maria, RS, 97015513
Brazil map
www.clinicadoolhar.com.br
+55 553-290-7501 office
---
Education and Training
Retinal fellowship

Clínica Oftalmológica Santa Fé, Puerto Ordaz - Venezuela

Ophthalmology residency

Pontifícia Universidade Católica do Rio de Janeiro, Rio de Janeiro - RJ - Brazil

Medical school

Pontifíca Universidade Católica do Rio Grande do Sul, Porto Alegre - RS - Brazil

Retinal fellowship

Clínica Oftalmológica San Camilo, Berazategui - Argentina
---
Biography
EDUCATION AND TRAINING:
2018-19 – Global Scholar in Surgical Leadership – Harvard Medical School (HMS), Boston/USA
2010-14 – Master in Business Administration (MBA) – Getúlio Vargas Foundation (FGV), Rio de Janeiro and Porto Alegre/Brazil
2012-13 – Diploma of Specialist Superior in Ophthalmology (DiSSO) – European School for Advanced Studies in Ophthalmology (ESASO), Lugano/Switzerland
2013-13 – Surgical Retina Fellowship – San Camilo Eye Clinic, Buenos Aires/Argentina
2012-13 – Surgical and Medical Retina Fellowship – Santa Fé Ophthalmology Clinic, Puerto Ordaz/Venezuela
2010-12 – Ophthalmology Degree – Pontifical Catholic University of Rio de Janeiro (PUCRIO), Rio de Janeiro/Brazil
2009-09 – First year of Ophthalmology Specialization – Instituto de Oftalmologia Córdoba (IOC), Córdoba/Argentina
2003-08 – Medical Degree – Pontifical Catholic University of Rio Grande do Sul (PUCRS), Porto Alegre/Brazil

WORK EXPERIENCE:
Retina, cataract and ocular trauma microsurgeon at:
HÜNING Clínica do Olhar, Santa Maria – RS/Brazil (since 2019)
HÜNING Ophthalmology and Reasearch, Porto Alegre – RS/Brazil (2014 - 2019)
Eye Clinic Quarta Colônia, Faxinal do Soturno – RS/Brazil (since 2014)

Vice-President at HRPC – Health Clinical Research Representation (2007-2019)
A company dedicated to work with clinical trials as developer and/or consultant. Capable to give a full support during new diseases, new medications, or new devices studies. Pharmacovigilance, PIs headhunting, research products storage, research projects design are also under the umbrella.

SCIENTIFIC ACTIVITIES:
Principal Investigator in several clinical trials concerning retina, glaucoma and cornea.

– Retina Today (May/Jun 2015): Pars Plana Vitrectomy: Beyond the OR.
– Retina Today (Nov/Dec 2017): The Birth of a New 3-D Viewing System.

– TVRS retina wetlab instructor
– ESCRS cataract wetlab instructor

AWARDS:
– Featured Poster – WOC 2014: 3D Printers and their use in Ophthalmology, a New Revolution.
– AAO 2018 Retina Subspecialty Day "My Coolest Surgical Video" Award Winner: What to do When your Fluid/Air Exchange Doesn´t Work?