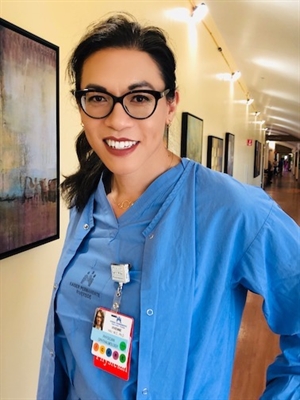 Vivienne S. Hau, MD, PhD
Kaiser Permanente Riverside
10800 Magnolia Ave
Department of Ophthalmology
Riverside, CA 92505
United States map
(951) 476-4088 office
---
Professional Affiliations
Academic Appointments
Kaiser Permanente Bernard J. Tyson School of Medicine
Hospital Appointments
Kaiser Permanente - Riverside
---
Education and Training
Retinal fellowship

Texas Retina Associates, Dallas, TX

Ophthalmology residency

University of Utah - Moran Eye Center, Salt Lake City, UT

Internship

University of Utah Hospital and Clinics, Salt Lake City, UT

Medical School

University of Arizona, Tucson, AZ

College

University of Arizona, Tucson, AZ
---
Biography
Vivienne S. Hau, MD, PhD is a Clinical Assistant Professor with the Kaiser Permanente Bernard J. Tyson School of Medicine and practices as a medical and surgical vitreoretinal specialist with the Southern California Permanente Medical Group in Riverside, CA. She is also the Area Vice-Chair of Clinical Research and started the clinical trial research program where she is now the Primary Investigator of several clinical trials in age-related macular degeneration and diabetic retinopathy. Dr. Hau also regularly peer-reviews articles for the Journal RETINA and the Journal of Vitreoretinal Diseases.

Dr. Hau completed vitreoretinal surgical fellowship at Texas Retina Associates, one of the largest and most-respected practices in the country. Residency training was at the John A. Moran Eye Center at the University of Utah, where she received numerous research accolades including presenting at the Association of University of Professors of Ophthalmology meeting and earning several travel grants to present at national and international ophthalmology conferences. Dr. Hau was named Resident Speaker of the Year twice and co-founded a homeless ophthalmology clinic. During medical school at the University of Arizona, Dr. Hau won various leadership and research awards including the American Medical Association Foundation Leadership Award. She graduated from the University of Arizona Phi Beta Kappa, Magna Cum Laude with honors, and received the Robert L. Nugent Award as one of the top graduates of the entire university.

Dr. Hau earned a PhD in Pharmacology/Toxicology investigating effects of inflammatory conditions on drug delivery, an essential component of today's latest pharmacologic treatments for retina diseases. Dr. Hau has co-authored 20 peer-reviewed research publications in journals as the New England Journal of Medicine and the Proceedings of the National Academy of Sciences on drug delivery and the genetics of retina diseases.

Dr. Hau is a member of the American Society of Retina Specialists and American Academy of Ophthalmology and has held various leadership positions in the past. She co-founded the ASRS Fellows-in-Training Section, served on the ASRS Board as Co-Chair of the Early Career Section and is on the planning committee for the ASRS Business of Retina Meeting.

As a running guide for the blind, Dr. Hau has helped the visually impaired complete nearly a dozen marathons (and counting). A devotion to caring for the visually impaired as a clinician, surgeon, researcher and as a friend/volunteer is inherent in Dr. Hau's personal interests. She is also fluent in Vietnamese and semi-fluent in Spanish.