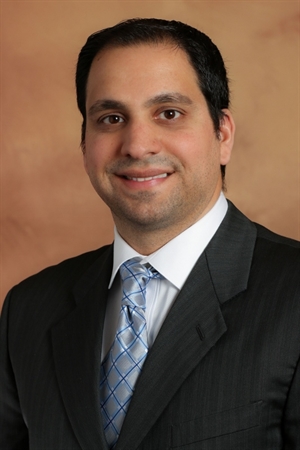 Joshua O Mali, MD
(941) 923-2020 (Office)

2111 Bee Ridge Road
Sarasota, FL 34239 , US map
http://www.theeyeassociates.com
http://www.malienterprises.org
Education and training
Retinal fellowship

Albany Medical College, Retina Consultants/Lions Eye Institute, Albany, NY, USA

Ophthalmology residency

Albany Medical College, Albany, NY, USA

Internship

West Virginia University School of Medicine, Morgantown, WV, USA

Medical School

West Virginia University School of Medicine, Morgantown, WV, USA

College

West Virginia University, Morgantown, WV, USA
Biography
Dr. Joshua Mali graduated Summa Cum Laude in Biology from West Virginia University (WVU) where he received the prestigious WVU Foundation Outstanding Senior Award. He then continued at WVU School of Medicine for his medical degree and internship in which he was awarded the WV Medical Scholarship Award. Upon deciding to specialize in ophthalmology, he went on to Albany Medical College for his residency and was elected Chief Resident by his peers and faculty. He also did his medical and surgical Vitreo-Retinal fellowship training at Retina Consultants/Albany Medical College while serving as an Assistant Professor of Ophthalmology. During his fellowship, he became one of the first retinal specialists in the United States to use Iluvien, a new steroid implant for diabetic macular edema. Currently, Dr. Mali is a board certified ophthalmologist and award-winning retinal specialist for The Eye Associates, a multi-specialty ophthalmology private practice in Sarasota, Florida and is an Attending Physician at Manatee Memorial Hospital (Bradenton, FL) where he performs retinal surgeries. He also serves as the Medical Director for the Macular Degeneration Association (MDA), a non-profit organization dedicated to educating and empowering age-related macular degeneration patients. The association is focused on improving the lives of those affected by eye diseases, and their endeavors reflect an unwavering commitment of caring through ophthalmological research, information, advocacy and fundraising efforts. In addition, Dr. Mali is the Founder & CEO of Mali Enterprises which is currently selling his award-winning invention: The Mali Eyeglass Holder (www.malienterprises.org). This innovative product is used to safely and securely hold the patient's eyeglasses during the slit lamp microscope examination. In addition, this versatile product can attach to most tables in healthcare examination rooms, procedure rooms, tables/nightstands at home, and other businesses to hold eyeglasses as needed. This is a must-have accessory for Ophthalmologists, Optometrists, Dentists, and all other physicians/healthcare professionals that utilize slit lamps and examination rooms.

Dr. Mali utilizes the most advanced surgical techniques and technology in the world to deliver the highest quality retinal surgery for his patients. He has published research in esteemed medical publications including JAMA Ophthalmology, Ophthalmology Times, Ocular Surgery News, and Retina Today. Currently, Dr. Mali is a principal investigator for many clinical trials including a new treatment for wet macular degeneration, diabetic retinopathy, and uveitis. He has presented at national and international research meetings and has given lectures across the country. In addition, his retinal surgical video was included in the American Society of Retinal Specialists (ASRS) Innovative Retina Surgical Video Series. Dr. Mali was named 2018 America's Top Ophthalmologist. He was also recently honored with the 2018 Outstanding Alumnus for the West Virginia University Department of Biology for being a leader in his field and all his success as an accomplished retinal surgeon and innovator.

He has also been recognized by several honored organizations including Alpha Epsilon Delta (serving as vice-president for the WVU chapter), a prestigious National Premedical Honor Society, Beta Beta Beta (WVU Chapter), a National Biological Honor Society, and the National Society of Collegiate Scholars. In addition to these honors, he was also selected for membership in the Golden Key International Society, American Society of Retina Specialists (ASRS), American Society of Cataract and Refractive Surgeons (ASCRS), and the American Academy of Ophthalmology (AAO). He is the proud member of the Manatee County Medical Society (MCMS), Sarasota County Medical Society (SCMS), Florida Medical Association (FMA), and Florida Ophthalmological Society (FSO).

Dr. Mali has given his time and contributed his medical expertise to worthy organizations such as Medical Ministry International, Georgia Lions Camp for the Blind, Columbia Lighthouse for the Blind, and Baha'i inspired Health for Humanity. He has participated in mission trips all over the world including most recently in Mexico and Nicaragua. Locally, he serves as a volunteer ophthalmologist in Bradenton (FL) with Remote Area Medical (RAM) which provides free medical services for under-served patient populations in the United States. He was also a mentor/preceptor for a NASA sponsored WVU Robotics Team.
Dr. Mali is married to his lovely and beautiful wife Yasmin, and they have a daughter Julia. His interests include spending time with family and friends, traveling, community service, and playing sports (football, basketball, tennis, golf).
Dr. Mali has dedicated his career to serving his patients and providing the highest quality eye care for the community.

---
Academic appointments
Medical Director, Macular Degeneration Association
Hospital appointments
Attending Physician, Manatee Memorial Hospital