Industry News — Clinical Updates
NIDEK RS-3000 Receives FDA 510(K) Clearance
NIDEK, Inc. (Fremont, CA) has announced that it has received US Food and Drug Administration (FDA) 510(K) clearance for the RS-3000 Advance. The optical coherence tomography (OCT) system, which incorporates scanning laser ophthalmoscope, is designed for comprehensive evaluation of the retina and choroid.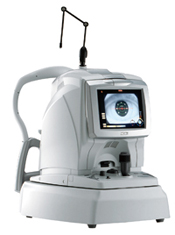 RS-3000 includes the choroidal mode, which provides detailed evaluation of the choroid, and a wide-area scan (9 mm x 9 mm) to provide excellent overall coverage of retinal structures. The system's Tracing HD function compensates for microsaccades and other involuntary eye movements during macular line scans, ensuring accurate alignment of up to 120 macular line scan images for enhanced image averaging. It also includes an automatic registration function to address cyclotorsion during image acquisition, thus enhancing the quality of follow-up data.

RS-3000 increases accuracy through high-speed scanning (53,000 A-scans per second) during acquisition with tracing, and its selectable OCT may also enable imaging through media opacities.

The system seamlessly integrates with most EMR systems using NAVIS-EX image filing software.


Updated: April 8, 2014